Green Water Loading
Service Detail from E-Labs, Inc.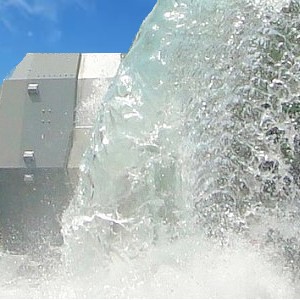 Test is performed in accordance with MIL-HDBK-2036.
Green Water Loading per MIL-HDBK-2036 is another shipboard test within our capabilities. To ensure that your equipment can withstand the rigorous conditions on deck, let us splash some water on it... A lot of water!
Climatics Testing
E-Labs, Inc provides a wide variety of environmental exposure testing services that have the ability to simulate and control most climatic conditions including temperature, humidity, altitude, pressure, vibration, temperature cycling, solar heating, exposure to UV light, corrosive atmospheres, and other climatic variables.
These climatic testing services play an important role in product and component testing to ensure that stringent custom and industry standard specifications are met. Items tested range from test samples, parts, and components, to finished products. Industries we have served for climatics testing include Aerospace / Avionics, Appliances, Automotive, Electronics, HVAC, Industrial / Machinery, and Life Science / Medical.
The effects of product exposure to climate-related conditions are modeled through the use of special test chambers. These chambers have the ability to cover extreme environmental variations as well as constant temperature and humidity levels.
With over 20 chambers, the climatics department of E-Labs offers a wide range of chamber sizes from 2 to 3,500 cubic feet. All chambers are equipped with microprocessor controllers and product savers that allow for continuous monitoring and data collection that allow for safe and accurate operation at any temperature or humidity level.
Fungus Testing - E-Labs has retired FDA scientists on staff and test control samples are included to show growth while units are under test.
E-Labs, Inc can also provide assistance with the interpretation of specifications as well as the design of proper climatic test programs based on your product application.
Military and Commercial Specifications and Standards
RTCA/DO-160 Testing
E-Labs can test to RTCA/DO-160 which covers standard procedures and environmental test criteria for testing airborne electronic equipment (avionics) for the entire spectrum of aircraft, from light general aviation aircraft and helicopters through to the "jumbo jet" and "supersonic transport" classes of aircraft.
RTCA/DO-160 Dynamic and Vibration Testing Services: MIL-STD-167-1
Section 4 Temperature and Altitude
Section 5 Temperature Variation
Section 6 Humidity
Section 7 Operational Shocks and Crash Safety
Section 8 Vibration
Section 9 Explosion Proofness
Section 10 Waterproofness
Section 11 Fluids Susceptibility
Section 12 Sand and Dust
Section 13 Fungus Resistance
Section 14 Salt Spray
Section 15 Magnetic Effects
Section 16 Power Input
Section 17 Voltage Spike
Section 18 AF Conducted Susceptibility
Section 19 Inducted Signal Susceptibility
Section 20 Radiated and Conducted Susceptibility
Section 21 Radiated and Conducted Emissions
Section 22 Lightning Testing; Indirect Effects (Single Stroke, Multi-stroke and Multi-burst waveforms)
Section 23 Lightning Direct Effects*
Section 25 ESD
Section 24 Icing
Section 26 Fire, Flammability
MIL-S-901 Testing:
MIL-S-901 details the high-impact shock testing requirements for shipboard machinery, equipment, structures and systems. The purpose of these MIL-S-901 requirements is to verify the ability of shipboard installations to withstand shock loadings, such as the effects of nuclear or conventional weapons.
Details the mechanical vibration testing requirements for shipboard equipment. Equipment designed and tested in accordance with MIL-STD-167-1 generally passes the shock requirements of MIL-S-901 with little difficulty.
MIL-STD-810 Testing:
This deals with Environmental Engineering Considerations and Laboratory Tests, which include shock testing and vibration testing. MIL-STD-810 talks about a vast range of environmental testing procedures and standards that we are fully equipped to offer you such as the following:
500.4 Low Pressure
501.4 High Temperature
502.4 Low Temperature
504 Contamination by Fluids
505.4 Solar Radiation
506.4 Rain
507.4 Humidity
508.4 Fungus
509.4 Salt Fog
510.4 Sand and Dust
511.4 Explosive Atmosphere 512.4 Immersion
513.4 Acceleration
514.4 Vibration
515.4 Acoustic Noise
516.4 Shock
517.4 Pyroshock
518.4 Acidic Atmosphere
519.4 Gunfire Vibration
520.4 Temperature, Humidity, Vibration and Altitude
521.4 Icing/Freezing Rain
522.4 Ballistic Shock
E-Labs is a Full Service Testing Laboratory that offers our customers access to our state of the art facilities and knowledgeable personnel. Our personnel have over 70 years combined laboratory experience with disciplines for aerospace, automotive, military, commercial, utility, electronics and IT industries.
At E-Labs, we perform Climatic Testing for issues such as Temperature, Humidity, Salt Fog, Sand and Dust, Immersion Testing and more. We also offer full EMI and EMC Testing, andDynamics Testing such as Mechanical Shock, Lightweight Hammer Shock, Transportation, and Vibration Testing. Special testing such as explosive atmosphere, high pressure, high vacuum, Helium leak detection and fungus are also performed at our facility.
E-Labs offers simulation services from cradle to grave, from concept to analysis, test planning, fixture design and fabrication consulting to testing in the lab. We can help develop Qualification, Acceptance and Reliability test plans for your product as well. E-labs has two facilities with a combined floor space of over 30 thousand square feet with the ability to remotely perform hazardous testing among others.
With our capabilities, we can help you determine the durability and life expectancy of your product. Whether it be a sub-component or finished product, we can help determine if it meets your expectations, or where improvements can be made. Whether you want to compare your product to the competition, or try out a new concept, we can help.