Squeak & Rattle Testing
Service Detail from E-Labs, Inc.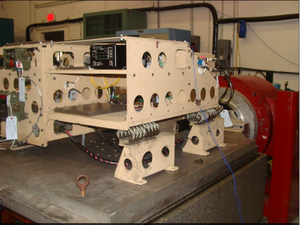 Dynamics » Vibration Testing
Vibration testing can help validate your design to see if it will survive its intended environment. It simulates a variety of transportation scenarios, operating environments, and the effect of external vibration within a storage environment.
Our vibration testing facility is comprised of 3 electrodynamic shakers capable of providing over 20,000 force pounds performing multiple types of vibration such as sine, random, sine on random, random on random and vibration analysis. They are capable of product vibration in a single as well as multiple axis configuration in order to meet your type of testing.
Test applications include transportation load simulations, fatigue due to vibration, reliability testing, squeak & rattle testing, fragility, production stress screening, and package testing, among others.
E-Labs, Inc. is a Full Service Testing and Evaluation Laboratory. We offer customers access to our large and well-equipped facilities, our experienced personnel, and our Highest Standards of Testing, Evaluations and Reporting.
Military and Commercial Specifications & Standards include:
RTCA / DO-160
MIL-STD-167-1
MIL-STD-810
MIL-S-901
E-Labs personnel have over 70 years of hands-on lab testing experience within all testing disciplines for the Aerospace, Automotive, Military, Commercial, Electronics and IT industries.
From concept to analysis, test planning, fixture design and fabrication consulting and lab testing, E-Labs offers what you need.
Our Main Scientific Testing Facility includes over twelve thousand square feet of floor space and our remote facility has twenty thousand square feet of remote operations facilities.