Custom Microwave Chambers from ETS Lindgren
Product Announcement from ETS-Lindgren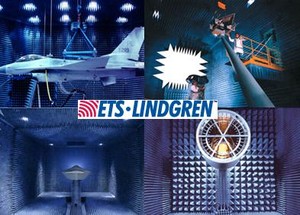 Microwave Chambers
ETS-Lindgren manufactures Microwave Chambers for a number of applications including; Radar Cross Section, Near Field, Satellite and Compact Range measurement. Typically, these chambers have all their surfaces lined with anechoic absorber to create a free space environment. Microwave chambers can be almost any size as long as the anechoic absorbers are able to provide the required reflection loss at the required frequency.
Meeting the needs of the Military
Superior Design
Capability with a wide range of products, our standard microwave absorbers will fit most needs. However, some applications have special requirements that can only be met with a custom product. That's where ETS-Lindgren excels. Instead of "cut-and-try" experimentation, our engineering staff uses powerful work stations running advanced numerical modeling programs to develop the right solution. Next, prototypes are made and the design is tested. Results become part of a valuable feedback loop for refining our designs further.
We also work with universities having strong electromagnetic programs to develop new absorber technology. For example, a number of collaborations with Ohio State University resulted in the development of high performance 153 cm (60 in) curvilinear pyramidal absorber for NASA. Subsequently, ETS-Lindgren developed several varieties of curvilinear absorber for defense related applications. Not everyone needs a custom solution like NASA, but if you do, we have the in-house resources to satisfy your requirements.
Unique Two-Step Manufacturing
Our computer controlled manufacturing process begins with homogeneous blocks of polyurethane foam. The blocks are impregnated with proprietary solution of lossy agents and dried in large ovens. Next, the blocks are impregnated a second time with fire retardant salts and dried again. (Non fire retardant absorber can be ordered on request). This premium two-step process uniformly distributes both agents and permanently bonds the carbon throughout the foam. The benefit is an absorber that does not release carbon particles which can contaminate delicate electronic equipment in the chamber. In fact, our absorbers can be used in clean room environments requiring a Class 100,000 rating. After impregnation, the foam is shaped using computer-controlled saws maintaining tolerances of±3 mm (.25 in). Cutting the dried foam into its final shape after the impregnation process avoids shrinkage and warping. The benefit is absorbers that install with uniform geometric alignment, reducing back scattering, and improving measurement accuracy.
RF Consistent Performance
100% of our microwave absorbers are tested for reflectivity performance. The Naval Research Lab (NRL) broadband swept-frequency arch measurement method is used for testing at750 MHz - 6 GHz, and 6 GHz - 18 GHz. (Testing at higher frequencies can be performed on request.) A coaxial reflectometer is used to test at frequencies between 30 MHz - 500 MHz, according to IEEE Standard 1128. The test procedures are automated and test data is archived electronically and in hardcopy format, for immediate or future retrieval and analysis.
Flammability
ETS-Lindgren's Rantec Brand CL combustion limiting polyurethane absorber sets the standard for material fire retardancy. We meet the following U.S. Government and commercial flammability specifications, as verified by an independent testing laboratory:
NRL Report 8093 (Tests 1, 2, and 3)
MIT Lincoln Laboratory Specification MS-8-21(Tests I, II, and III)
Raytheon Drawing No. 2693066 (latest revision)
UL 94-5VA and UL 94-5VB
UL 94 HBF
DIN 4102 Class B-2
Strict Quality Control
All ETS-Lindgren microwave absorber products are manufactured in accordance with established quality control and assurance standards. Each piece of absorber is serialized, providing traceability throughout the manufacturing process. Logbooks are also maintained for the impregnation process, solids test results, fire test results, Limiting Oxygen Index (LOI) test results, receiving inspection test results, and final inspection test results.
Large Capacity
Our 8,639 m2 (93,000 ft2) manufacturing facility in Durant, Oklahoma is the world's largest, capable of producing over 24,777 m3 (10.5 million board feet) of absorber per year. Capacity like this has allowed us to supply absorber for some of the biggest chambers ever constructed including:
Naval Air Warfare Center in Patuxent River, Maryland, Advanced System Integration Laboratory (ASIL), dimensions of 55 m x 55 m, x 18 m (180 ft x 180 ft x 60 ft), lined with12,263.2 m2 (132,000 ft2) of ETS-Lindgren microwave absorber.
Edwards Air Force Base in California, electronic warfare and counter measure test facility, dimensions of 80 m x 76 m x 21 m (265 ft x 250 ft x 70 ft), lined with over 18,952 m2(204,000 ft2) of RF absorber material, built in 1989.
Commitment to Service
Whether you need just a few pieces of absorber or a complete turnkey chamber, we have the experience and resources to help you with the right solution. We can be reached by phone, fax, e-mail, the Internet, or through our worldwide network of independent ETS-Lindgren representatives.
---