World's Best Hinge?
Product Announcement from EMKA Incorporated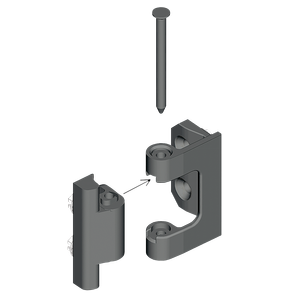 This hinge allows unimpeded access to a cabinet, either by easy door removal or by allowing a full 180º door opening even when adjacent to an identical enclosure. The hinge material was optimized by FEA to produce a low part cost, this combined with its unique quick installation feature and left-right versatility gives lowest total installed cost.
Other EMKA hinges are suitable for different attachment methods (such as welding) and different attributes (such as concealed, explosion proof, vandal resistant). Different cabinet designs are also accommodated.
EMKA's full range of hinges can be seen at www.enclosurehinges.com
Most of EMKA's over three thousand standard parts often can be shipped the same day. For modified standard or custom products EMKA is fully capable of designing, producing rapid prototypes, the necessary tooling, and the finished item.
EMKA also has a software and electronics division focused exclusively on electronic access control and monitoring, primarily for data and colocation centers.
The goal is to bring to market product offerings which provide customer value, efficient installation, often using new and advanced materials in designs which are functional and aesthetically pleasing
---