Friction Hinges - Infinitely Adjustable
Product Announcement from EMKA Incorporated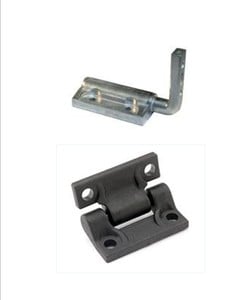 EMKA - friction hinges are zinc alloy, glass reinforced nylon or stainless, to suit the application. Alternatives include one-way positioning hinges that feature asymmetric torque, which greatly reduces the force needed to move in one direction while maintaining it in the other.
Covers and panels can be self-supporting without costly gas springs. Wide range of torques: from 3 lb.ins for lap top lids to 50+ lb.ins per hinge for substantial covers, windows and doors. Also units specifically designed for optimum viewing angle.
One-way torque allows easy upward adjustment without compromising holding force in the downward direction. In many applications EMKA one-way hinges can replace more costly gas strut solutions.Long life with consistent torque eliminates the need for adjustment. No adjustments at installation, no adjustments in the field.
Using the industry's most experienced team of engineers; we can customize a solution that fits perfectly with your application. We change our design so you don't have to change yours. You get the right torque, the right fit and the right function, all with superior quality and on-time delivery.
In addition to these friction hinges EMKA makes Locks, latches, regular hinges, handles, and gasketing; we also make many types of accessories for OEMs who make metal enclosures, panels, air handling unites and similar equipment. These products include drawing pockets, door stops, windows and many other items
---