Improved Concealed Hinge for Industrial Enclosures
Product Announcement from EMKA Incorporated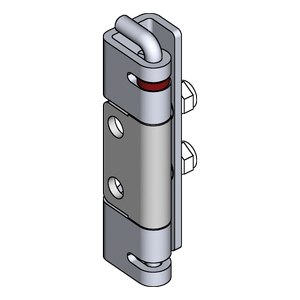 Improved Concealed Hinge for Industrial Enclosures
The standard industrial concealed hinge has a couple of trade offs for some end users. The pin in the top hinge is often inserted from below so a circlip is needed to prevent the pin from falling out; therefore circlip pliers are needed to remove the door. A related issue is that the pins can be mislaid when the door is removed.
Using a captive plastic (acetal) circlip and a pin with two detents addresses both issues and maintains the other attributes of EMKA concealed hinges.
This is one of several hundred hinges EMKA makes to satisfy specific requirements.
Complementary latches may be seen here
Maximizing value or "Customer Satisfaction divided by Total Installed Cost" is the objective. EMKA achieves this by low cost, installation methods, some ingenious and some simple, a wide range of sizes, materials and features so the end user pays only for the attributes he wants.
Corrosion resistance requirements are met by 303, 304, or 316 stainless or glass reinforced nylon.
Within this range there are hinges suitable for different attachment methods (such as welding) and different attributes (such as concealed, explosion proof, vandal resistant). Different cabinet designs are also accommodated.
EMKA also manufactures latches of all kinds click here, gasketing, enclosure accessories (like door stops). Rarely the cheapest but often the lowest cost.
You need Flash player 8+ and JavaScript enabled to view the Improved Concealed Hinge for Industrial Enclosures video.
Get the Latest Flash player.
---