Padlocking Latch for NEMA 4x Enclosures
Product Announcement from EMKA Incorporated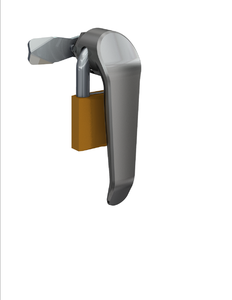 Other EMKA latches are set to provide the ultimate in reliability through optimum gasket compression to prevent water leakage into an enclosure. They easily meet or exceed IP66, NEMA 4, GR 487 etc. Stainless, zinc alloy or polymer components provide the mix of attributes to suit specific applications. Custom latches off the shelf at mass production prices.
Select from EMKA's huge variety of latches; select the most cost effective combination of materials to gain the attributes you need without paying for those you don't. Some latch types are: quarter turns, swinghandles, compression latches, L handles, wing knobs, toggle latches and more.
Click here for Multi-point latching white paper which explores options and discusses trade-offs.
Emka also manufacturers hinges of many types including: concealed hinges, lift-off hinges, weld-on hinges, industrial hinges, butt hinges, Stainless steel hinges etc.
---