3700 Armor-Flo Meter
Product Announcement from ERDCO Engineering Corporation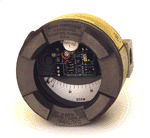 The cover housing is listed by Underwriters Laboratories as an enclosure for metering equipment in hazardous areas. It contains an easy to read calibrated scale and the signal output or switch circuitry. These devices are magnetically coupled with the flow sensor. This results in complete isolation from the fluid stream.
Six signal and switch options are available:
4-20 mA two wire transmitter
4-20 mA transmitter and frequency output
4-20 mA transmitter with 2 adjustable setpoints
Low flow limit switch
High flow limit switch
Low and high flow limit switches
All instruments are calibrated to the liquid or gas flow conditions that you specify. A wide range of connection types, engineering units, signal options and sizes are available.
---