Submerged Arc Fluxes & Wires
Product Announcement from ESAB Welding and Cutting Products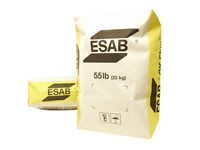 ESAB Submerged Arc fluxes are designed to deliver solutions for a variety of applications. A full line of fused and bonded fluxes are available to be used with a variety of carbon steel and stainless steel wires.
Mild Steel & Low Alloy Submerged Arc Wires and Fluxes
ESAB offers a variety of formulations for single or multipass welding on carbon and low alloy steel applications.
OK® Autrod Stainless Steel Submerged Arc Wires and Fluxes
Stainless Steel Submerged Arc Wires are manufactured under a carefully administered, high standard quality control program developed through years of experience in welding wire production. ESAB can supply these products as either solid or composite (metal cored) variations.
Stainless Cladding Strip/Flux Products
Stainless submerged arc fluxes can be used with solid and metal cored wires. Regardless of the application, Alloy Rods have the right flux for joining or cladding of stainless and duplex steels.
Nickel Steel Cladding Strip/Flux Products
ESAB supplies an assortment of nickel steel alloys for SAW applications. All such alloys are pretested for wire chemistry prior to shipping and are supplied with a Certificate of Analysis. Submerged arc fluxes are available for all applicable alloys.
---