IHS ESDU launches its second 'app' feature
Featured Product from IHS ESDU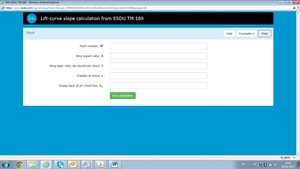 IHS ESDU is excited in launching its second app to its vast range of data capabilities - 'Wing lift-curve slope' app
Engineering is an iterative process of continual improvement building on lessons learned and recognizing engineering best practice through research and testing. Each ESDU tool is the product of a comprehensive validation process by a wide range of independent subject matter experts drawn from industry, research organizations and academia to provide insight into design techniques, methods, software & engineering data covering a wide range of aerospace engineering disciplines. Using ESDU will eliminate some of the design iterations by starting beyond basic engineering design principles, and reducing research and testing cycles.
Listed below is the second of the three applications that perform various engineering calculations.
These apps are freely available to subscribers and non-subscribers alike, try it out and see for yourself.
Flight Sciences
Wing lift-curve slope from ESDU TM 169
This app employs a modified version of the Helmbold-Diederich equation (described in ESDU TM 169) to estimate the lift-curve slope of a wing of trapezoidal planform. In order for the method to be applicable the wing must be thin and employ only moderate camber and twist, and the flow must remain both attached and wholly subcritical. Compressibility effects are catered for by means of the classic Prantl-Glauert factor. The original Helmbold-Diederich equation was often used before there was general access to more soundly based methods such as the lifting-surface theory (which is the basis of ESDU 70011).
The full background to this method, and that of ESDU 70011, is given in ESDU TM 169 in the ESDU Aerodynamics Series.