IHS ESDU launches its third 'app' feature
Featured Product from IHS ESDU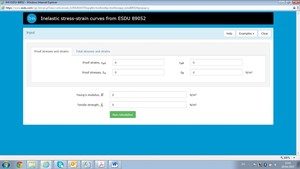 Product Announcement
IHS ESDU is excited in launching its third app to its vast range of data capabilities - 'Inelastic stress strain curves from ESDU 89052' app
ESDU is based on validated and authoritative design data and method for Aerospace, Mechanical, Chemical, Civil, Structural engineering and Material Science. ESDU is the only collection of validated data of its kind.
Significantly used by International engineering companies, it is widely considered to be the most accurate, up-to-date and comprehensive collection of validated data and methods.
Listed below is the third of the three applications that perform various engineering calculations.
These apps are freely available to subscribers and non-subscribers alike, try it out and see for yourself.
Aerospace structures
Inelastic stress strain curves from ESDU 89052
This app provides a method of estimating the stress-strain behaviour of a metallic material within the assumptions that this behaviour may be represented by a smooth continuous generalised curve. The method is valid for both tensile and compressive stress-strain data.
The curve is derived using the Young's modulus and two data points in the inelastic region (the tensile strength is used solely to limit the extent of the curve). The curve follows the modulus in the elastic region and in the inelastic region the greatest accuracy is in the region of the two data points used to derive the curve.
The two data points in the inelastic region may be given as either (a) two proof stresses and the corresponding permanent strains, or (b) two stresses and the corresponding total strains.
The theoretical basis for the generalised stress-strain form used by the app is detailed in ESDU 89052, 'Construction of inelastic stress-strain curves from minimal materials data', and ESDU 76016, 'Generalisation of smooth continuous stress-strain curves for metallic materials'.