ESDU has an interesting new 'App'
Featured Product from IHS ESDU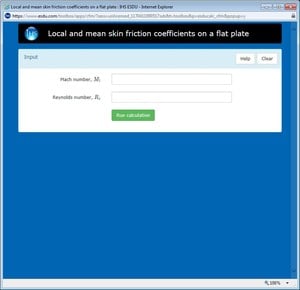 Product Announcement
ESDU has an interesting new 'App'
IHS ESDU is excited in launching a new 'App' to its vast range of data capabilities - 'Local and mean skin friction coefficients on a flat plate'
ESDU provides essential design methods and software for the aerospace, defence, transportation, energy and related industries. These methods and software are produced and rigorously validated with the collective knowledge of hundreds of engineers from around the world.
These apps are freely available to subscribers and non-subscribers alike, try it out and see for yourself.
Local and mean skin friction coefficients on a flat plate
This App uses the semi-empirical method of Spalding and Chi to obtain the local and mean skin friction coefficients for a turbulent boundary layer on a smooth flat plate with zero pressure gradients and zero heat transfer.
The data are applicable to flows with Reynolds numbers based on streamwise distance over the range 100 thousand to 1000 million and for Mach numbers up to 5.
The equations used are taken from Appendix A of ESDU 78019, which itself is based on the method described in ESDU 68020. Both of these are to be found in the Aerodynamics Series.