Modular, Flexible & Efficient Power Distribution
Featured Product from E-T-A Circuit Breakers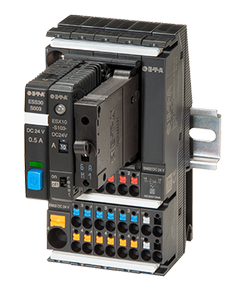 The Module 18Plus is a compact wiring solution for all DC 24V load cables and signal lines - no matter if it is for decentralized power distribution or for centralized plant concepts. It is designed with state-of-the-art push-in technology for DIN rail mounting and provides panel builders with:
Modularity: Engineers specify the system configuration based on his application
Flexibility: Side by side mounting of single pole plug-in circuit breakers with various technologies

Efficiency: Integral power distribution – additional connecting terminals and connection cables are not required

The 18Plus Power Distribution System consists of three basic 13 mm wide components: the 18plus-EM supply module, the 18plus-AM connection module for accommodating single pole circuit breakers (ESS30, ESX10-, ESX10-S, 2210-S) as well as the 18plus-SM signalling module with a green LED for indicating the "OK" condition of the aux. circuit. This architecture allows users to configure a power distribution system that directly meet the needs of his application (up to 30 sockets, 80A total distribution load and max 20A per individual load).

The Module 18Plus system provides integral power distribution and mounts directly on a DIN rail. An audible signal occurs (»click«) when the components latch onto the DIN rail - ensuring mechanical form fit and electrical connection – without the need for additional connecting terminals or connection cables.

The Module 18Plus is approved to UL 1059 and in accordance with EN 60950-7-1 allowing it to be used in international applications.