PowerPlex Intelligent Bus System
Featured Product from E-T-A Circuit Breakers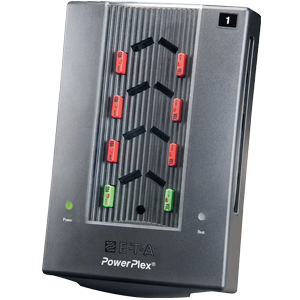 Growing demands regarding convenience and functionality on board require a new technology for a boat's electrical system. Achieving this performance range with today's conventional technology generates a tremendous effort in wiring and mounting. Most of the requested features like power management, alarm systems or supervision are independent systems. All these features will be merged into the PowerPlex System. Your experience in combination with the E-T-A PowerPlex System and E-T-A's worldwide sales, engineering and service network will guarantee future success.

What is E-T-A PowerPlex?
The E-T-A PowerPlex is a decentralized, user configurable power distribution system. It is optimized for marine applications based on CAN-Bus technology (SAE J1939). Ease of configuration by means of the E-T-A configuration software running on a standard Windows PC offers individual solutions for every boat. The E-T-A PowerPlex provides switching and controlling, timer functions, real load status indication, overcurrent protection and wire break detection. Each function is individually programmable to fit the requirements of the different loads.

What are the advantages for the boat owner?
The E-T-A PowerPlex offers a link between the look and feel of conventional technology and modern digital processing offering extensive diagnosis, monitoring and control functions. The main benefit for the boat owner besides having a modern electrical system is the integration of a lot of features like alarm and remote control.