Product Approvals Extended on the ESX10-T
Featured Product from E-T-A Circuit Breakers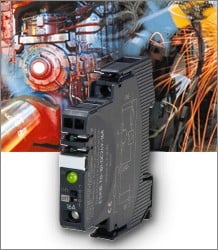 Selective overcurrent protection for DC24V applications: Type ESX10-T... now with cULus approval to UL 508 and CSA C22.2 No. 14. The single-way overcurrent protector for direct rail mounting, type ESX10-T..., is now approved to UL 508 and CSA C22.2 No 14 (cULus listed), in addition to standard cURus to UL 508 "Recognized". So we now have both approvals for the product.
Thanks to the additional approval to UL 508 A the circuit protector ESX10-T can now be used even easier in the relevant applications. No additional tests are required after installation.
Deliveries to North America:

A lot of machinery and equipment manufactured in Europe is in the end delivered to North America. This means: UL-approved components are compulsory. The switching and control cabinets for North America must normally comply with UL 508A ("Industrial Control Panel"). For the protection of the DC24V control voltage overcurrent protection devices type "Industrial Control Equipment" are used, i.e. circuit protectors with UL 508 approval are widely used in the industry today.
Benefits:
ease of integration due to standard compliance
no additional tests required
helps to save extra costs