Smart Electronic Protection System | Industry 4.0
Featured Product from E-T-A Circuit Breakers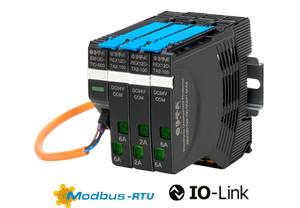 E-T-A Circuit Breakers is pleased to announce its REX12D-T, the latest addition to the REX Electronic Protection System that includes supply modules, overcurrent protection devices, and power distribution modules. This modular architecture allows designers to customize the REX system to specifically meet the system requirements. The new REX12D-T circuit protector, in combination with the EM12D-TMB supply module that communicates via Modbus-RTU protocol, is ideal for those looking to incorporate condition monitoring and predictive maintenance into their systems to increase machine transparency and system consistency.
The REX12D-T is available in a single or double channel version. The single-channel version is available in 8A and 10A fixed current ratings. The double-channel version, which saves considerable space in the control panel by offering double load protection in a 12.5mm wide device (or 6.25mm per channel), is available in fixed current rating combinations of 1 A/1 A, 2 A/2 A, 3 A/3 A, 4 A/4 A, 6 A/6 A. Loads, with a total rating up to 40A, can be protected by circuit breakers mounted side-by-side on a DIN Rail that are connected with a unique hinged connector arm. This connection technology eliminates the need for bridges, jumpers or busbars and reduces installation and wiring time by up to 50%.
The REX12D-T status indication, both on the device itself and also on a system HMI via Modbus-RTU communication protocol, allows technicians to constantly monitor the status of the REX system and quickly identify faulty loads that need attention. Faulty circuits will selectively be disconnected after approx. 3 seconds and after less than 10 milliseconds in the event of a short circuit.
The REX12D-T is UL 2367 and UL 1310 NEC Class2 approved, and cULus 508 listed. It is available through E-T-A's established network of distributors. For additional information click here.