CHARON2 XYT Stacked Platform
Featured Product from ETEL S.A.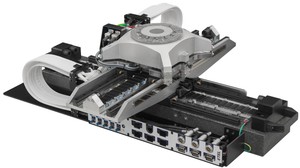 CHARON2 design extends CHARON use cases into the space of higher dynamics and larger payloads, with further improvement on accuracy and repeatability. Exceeding 1g acceleration and 1 m/s speed at doubled payload, while delivering an absolute positioning accuracy below 1 µm, CHARON2 represents a turnkey motion solution for state of the art new semiconductor applications and lifetime extension initiatives.
CHARON2 remains another perfect example of ETEL vertical integration, based on proprietary IP for motors, electronics and controlling know-how, and synergy with HEIDENHAIN when relating to world-class positioning accuracy feedback. The result is a broad family of solutions serving any OEM wafer-positioning needs, process or process-control related, and ranging from a core XY to a complete system of up to 9 axes, independently controlled.
CHARON2 stems from anticipated, aligned, OEM requirements immediately fulfilled with another optimized product, reducing EOM integration costs and time-to-market efforts.
Main specifications
Total Stroke : up to 650 mm x 410 mm
Position accuracy : ±1 µm for XY and

±3 arcsec for T

Position stabilty : ±1 nm for XY and

±0.2 arcsec (at encodre level) for T

Bidirectional repeatability : ±0.4 µm for XY and

±2 arcsec for T

Payload : up to 30 kg
Click here to see the Data sheet of CHARON2 XYT !
About ETEL
ETEL, founded in 1974 and based in Switzerland, is a supplier 100% dedicated to direct drive technology. ETEL's range of linear and torque motors, position and motion controllers, and high-end motion system products provide a large selection to meet nearly all customers' needs and providing them with process improvement they have been looking for.