VULCANO XY Stacked Platform
Featured Product from ETEL S.A.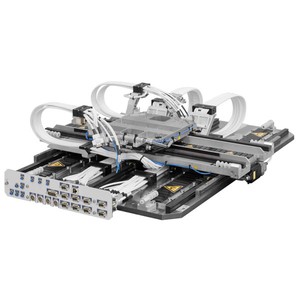 The baseplate of the bottom axes (Y1 & Y2) is composed of 2 ironcore linear motors, controlled in a gantry mode, when used with AccurET controllers, to allow better repeatability and optimal control efficiency. The upper axis (X) is composed of a single ironcore linear motor. The use of ironcore technology offers a high force density resulting in high acceleration and speed while keeping the operating temperature at a rather low level.
The baseplate of the upper axis (X), which also holds the motor of the bottom axes (Y1 & Y2) is made of aluminum for mass optimization and dynamics. Thermal expansion is handle by flexure elements.
There are 3 linear guides on the bottom plate. The two external linear guides laying on the bottom plate of VULCANO are recirculating ball bearings while the internal one (located in the middle of the baseplate) is composed of a recirculating roller bearing. The decoupling between the three guides is made through flexural elements. Some of these elements attached to the bearing blocks of the external guides allow a translation in the X direction. Some others attached to the central rail allow a rotation around the vertical direction. The upper axis (X) integrates 2 linear bearings. The decoupling is made via another set of flexural elements allowing a translation in the Y direction for one of the rail.
The use of this platform is suitable for, but not limited to:
Wafer Process Control applications such as Overlay Metrology, Critical Dimension and Thin film Metrology
Back-end: specific flip-chip processes made on large panels/substrates
Characteristics
Compact footprint
Nanometer position stability
Short move and settle times
High dynamics
High bidirectional repeatability
High position stability
ISO class 1 clean room compatibility
Click here to see VULCANO XY Data sheet !
Click on the link below to watch the VULCANO movie
About ETEL
ETEL, founded in 1974 and based in Switzerland, is a supplier 100% dedicated to direct drive technology. ETEL's range of linear and torque motors, position and motion controllers, and high-end motion system products provide a large selection to meet nearly all customers' needs and providing them with process improvement they have been looking for.

Play VULCANO XY Stacked Platform Video