EXAIR's Flexible Stay Set Hoses Hold Air Nozzles
Featured Product from EXAIR Corporation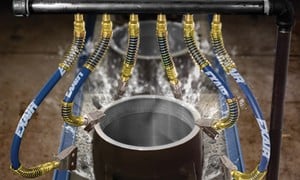 EXAIR's Flexible Stay Set Hoses are ideal for applications where frequent repositioning of air nozzles is required. At the end of each production run, companies can quickly and easily move their air nozzles to a new position that closely matches the profile of the next part. The effectiveness of each air nozzle can increase dramatically.
When mounted in close proximity to the application, the Flexible Stay Set Hose can be bent to aim the airstream at the target surface to be cleaned, dried or cooled. The hose has memory and will not creep or bend. It stays in the same position until it is physically moved by the operator.
Flexible Stay Set Hoses are constructed of reinforced synthetic rubber to assure long life and protection against ozone, weathering, and temperatures up to 158°F (70°C). They are available in a variety of lengths from 6" (152mm) to 36" (914mm). Two styles include one with a 1/4 NPT male brass fitting on each end, the other with a 1/4 NPT brass male fitting on one end and 1/8 NPT brass female fitting on the other. Energy efficient air nozzles, magnetic bases and safety air guns for use with the Flexible Stay Set Hoses are available.
http://www.exair.com/index.php/products/accessories/stay-set-hose3.html