Large Siphon Fed Spray Nozzle Coats & Cools!
Featured Product from EXAIR Corporation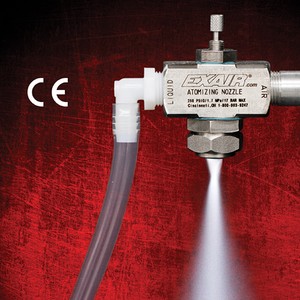 EXAIR's 1/2 NPT siphon fed atomizing spray nozzle atomizes a variety of fluids in a round spray pattern where no liquid pressure is available and heavy application of liquid is needed. This corrosion resistant type 303SS nozzle draws liquid into the airstream and mixes it internally while providing up to 24″ of suction height. Liquid can be easily adjusted to meet the needs of your application using the adjustment valve. The 1/2 NPT spray nozzle provides high liquid flow up to 68 GPH in a 6″ diameter round pattern. Also available in a patented no drip version to conserve liquids.
With EXAIR's wide variety of atomizing spray nozzles, you can coat, cool, treat and paint a variety of products using compressed air and liquids with a viscosity of up to 300 centipoise. Used with water, atomizing nozzles are an efficient way to evenly cool hot items in your automated process. They are also commonly used with light oils, rust inhibitors, chemicals, paints and dyes.
The stainless steel construction of these atomizing nozzles adds to their durability and corrosion resistance. EXAIR atomizing nozzles are available with 1/4 and 1/2 NPT connections and in a variety of spray pattern sizes and shapes to meet your needs. All models are adjustable, have an available mounting bracket and come with our 5 year Built to Last Warranty and are CE compliant. http://www.exair.com/57/lgsr.htm