Stainless Steel Products
Featured Product from EXAIR Corporation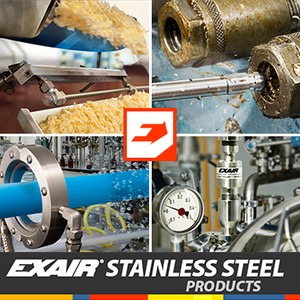 Many applications are located in high temperature and/or corrosive environments. The EXAIR stainless steel products have been designed for these harsh environments and are widely used in food, pharmaceutical and chemical processing plants along with locations requiring better durability and hygiene. Many EXAIR blowoff, cooling, drying, cleaning and conveying products are available in Type 303/304 stainless steel. For added protection and increased durability, EXAIR now offers many products constructed of Type 316 stainless steel - from stock so you can get them right away!
Stainless Steel Super Air Knives
Quiet, hard-hitting curtain of air for blowoff, cleaning, drying and cooling. The low cost Super Air Knife dramatically reduces compressed air usage and noise when compared to other blowoffs, delivering a uniform sheet of laminar airflow with hard-hitting force across the entire length. Type 303 and 316 Stainless Steel Super Air Knives are available from stock in 3" (76mm) to 108" (2743mm) lengths. See Super Air Knives for more information. https://exair.co/57-sak
Stainless Steel Liquid Atomizing Nozzles
All stainless steel construction for durability and corrosion resistance. CE compliant liquid atomizing nozzles are available in internal mix, external mix and siphon fed varieties. No drip versions of these also available. They are available in 1/8 NPT, 1/4 NPT and 1/2 NPT.
Stainless Steel Super Air Wipes
The Super Air Wipe provides a uniform 360° airstream that is ideal for blowoff, drying, cleaning and cooling of pipe, cable, extruded shapes, hose, wire and more. The split design offers easy clamping around the surface of the material moving through it, eliminating the need for threading. Air Wipes are available from 3/8" to 11".
Stainless Steel Air Nozzles
Reduce noise level and air cost on blowoff operations. Engineered air nozzles use the coanda effect or small directed nozzles to amplify compressed airflow 25 times or more. Stainless Steel construction is best for high temperature and corrosive environments. Force from 2 ounces to 23 pounds is available.
Stainless Steel Air Amplifiers
Vent, exhaust, cool, dry, clean - with no moving parts! Stainless Steel Adjustable Air Amplifier is rated for up 400°F (204°C) and corrosive environments. High Temperature Air Amplifier is rated for up 700°F (374°C) and corrosive environments.
Stainless Steel Cabinet Coolers
Stop electronic control downtime due to heat, dirt and moisture! EXAIR Cabinet Coolers incorporate a vortex tube to produce cold air from compressed air - with no moving parts. The compact Cabinet Cooler can be installed in minutes through a standard electrical knockout.
Stainless Steel Vortex Tubes
Cold air to -50°F (-46°C) from your compressed air supply - with no moving parts! EXAIR Vortex Tubes are constructed of Type 303 Stainless Steel. The wear resistance of stainless steel, as well as its resistance to corrosion and oxidation, assures that EXAIR Vortex Tubes will provide years of reliable, maintenance-free operation.
Stainless Steel Line Vac
Convey parts, materials, waste - with no moving parts! Line Vac conveyors are ideal for moving large volumes of material over long distances. Type 303 Stainless Steel models offer good corrosion resistance and are ideal for food service, abrasive or corrosive applications. For critical applications, including certain foods and pharmaceutical products, Type 316 Stainless Steel models provide excellent corrosion resistance.
Stainless Steel Reversible Drum Vac and High Lift Reversible Drum Vac
The Reversible Drum Vac pumps 55 gallons in 90 seconds and the High Lift Reversible Drum Vac provides maximum lift, pumping 55 gallons in 85 seconds from up to 15 feet! EXAIR's compressed air operated Reversible Drum Vac and High Lift Reversible Drum Vac Systems attach quickly to any closed head 30, 55 or 110 gallon drums. Their high powered vacuum fills the drum in less than two minutes. Many other industrial vacuums are also available. http://www.exair.com/index.php/products/air-knives.html?material=1198