Alligator / Crocodile Clips & Connector
Featured Product from E-Z-HOOK, a division of Tektest, Inc.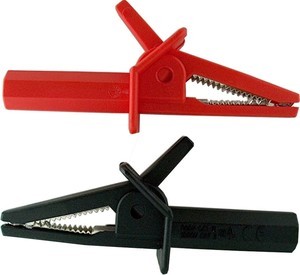 A large variety of alligator clips available. Choose from mini alligator clips, large alligator clips, insulated alligator clips, metal alligator clips and insulation piercing clips. Our alligator clip product line includes test clips adapters with alligator to banana socket (banana jack), female 6-32 thread, tip jack or pin socket and other combinations.
E-Z-Hook has a large selection of connectors and adapters in our connectors and adapters collection, to meet all your testing needs, including Banana plugs & jacks, Pin plugs, connectors & sockets, Banana sockets, Pin sockets, Spade lugs & spade connectors, Alligator clips, Wire clamps, Panel mounts, panel mount connectors, Wire harness connectors & terminals, Terminal clips, Ring adapters and ring terminals.