Automotive Solutions
Featured Product from E-Z-HOOK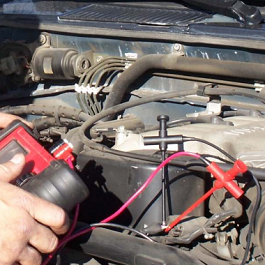 Test Leads and Kits for the Automotive Market
E-Z-Hook offers an assortment of insulation piercing hook test kits and test lead sets designed specifically for the automotive industry. Test kits include insulation piercing components such as banana plug test leads, alligator clips, probes, sockets and test hooks. Test leads sets are available with PVC, silicone, and coil cord wire options. If the kit combination or test lead set you are looking for is not shown, please contact us for custom options.
Today the 619XJL remains a staple, and one of our most popular automotive test leads. The XJL is an insulation piercing macro-hook to a standard insulated alligator clip test lead jumper. The XJL is our longer macro-hook version and may be purchased alternatively with our XJ shorter marco-hook version. Test leads utilize 18 AWG PVC wire.
Currently our fastest selling kit is the 3604 Deluxe XEL Automotive Test Kit. This may also be purchased in a smaller 3601 XEL Automotive Test Kit. The 3604 kit inside a clear hard case with foam padding includes:
Testing was never so easy. Over 35 years of PROVEN EXPERIENCE IN THE FIELD.
Since the late 1980's, E-Z Hook has serviced automotive repair technicians and shops with a wide variety of automotive specific testing accessories and DMM test leads available as individual items, sets, and kits. Our insulation piercing macro-hooks and test leads are made to be durable and designed for daily use. Engineered with no sliding contacts, the design ensures an accurate signal, even in the dirtiest and greasiest environments.
For applications where heat and chemicals are highly prevalent, we suggest customizing with silicone leads over Polyvinyl chloride (PVC). E-Z-Hook provides replacement test leads that fit most major digital multimeter manufacturers.
As the industry becomes more digital our mini and micro electronic test hooks, leads and connectors are popular in automotive R & D and component testing. We have worked with clients to make custom test lead assemblies and PCB connectors for automotive electronic test and programing requirements
––––––––––––––––––––––––––––––––––––––––––––––-––––––––––––––––––––––––––––––––––––––––––––––-––––––––––––––––––––––––
Custom Assemblies Is Our Standard
In a continuously evolving technological age with industry requirements changing daily, our goal is to provide clients with products manufactured to meet their new industry requirements. With that in mind, E-Z-Hook operates with a CUSTOM IS STANDARD philosophy. Based on this philosophy, E-Z-Hook provides customers the ability to tailor and customize existing products to meet their unique testing requirements. In the past we have provided: custom wire lead and cable lengths, attached any two or more connector combinations on a lead or cable, modified hook bends, springs, and plating specifications, used special packaging, added product numbering with heat shrink or hot stamp product labels, created custom kits even with integrating external products when requested, and more. If our current product offerings do not fit with your testing requirements, contact our engineering team to design a product that will work for you!
––––––––––––––––––––––––––––––––––––––––––––––-––––––––––––––––––––––––––––––––––––––––––––––-––––––––––––––––––––––––

About E-Z-HOOK | The Impossible Hookers™
Watch>>> Welcome to E-Z-Hook
For 60 years, E-Z-Hook has manufactured and sold innovative solutions for test and measurement needs across the world. We are proud to provide products made in the U.S.A and being a family owned and operated small business. Our electronic test accessories are recognized in the industry for their durability and design. The E-Z-Hook Quality Management System is registered to ISO 9001:2015. Our mission is to provide quality products, delivered on time, at reasonable prices.
Choosing E-Z-Hook means:
No order minimums
Shipped within 48 hrs (standard)
Competitive Pricing
Custom solution capabilities
Excellent customer service
High quality product standards
RoHS compliant products
ISO 2001:2015 registered
––––––––––––––––––––––––––––––––––––––––––––––-––––––––––––––––––––––––––––––––––––––––––––––-––––––––––––––––––––––––
Please reach out to us if you have any inquirys or would like to get a qoute for a custom product to meet your testing requirements! We also provide a complimentary catalog of our full range of products, excluding some kits exclusivly online, that you may request. We also encourage you to subscribe to our newsletter to stay up-to-date on our products and whats happening at E-Z-Hook.
––––––––––––––––––––––––––––––––––––––––––––––-––––––––––––––––––––––––––––––––––––––––––––––-––––––––––––––––––––––––
E-Z-Hook, div. of Tektest
––––––––––––––––––––––––––––––––––––––––––––––-
Office +1 626 446 6175 Toll Free +1 800 995 4665
Email info@e-z-hook.com Web www.e-z-hook.com
Address 225 N 2nd Avenue Arcadia CA 91006 USA
––––––––––––––––––––––––––––––––––––––––––––––-
Facebook | Instagram | Twitter | LinkedIn | YouTube