E-Z-Micro-Hook: P25
Featured Product from E-Z-HOOK, a division of Tektest, Inc.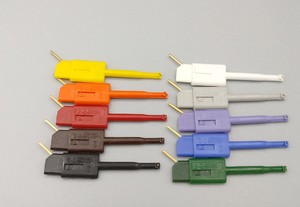 The P25 is designed specifically for testing in narrow and small contact areas. An ultra-thin blade and housing allows easier access in small spaces as well as the ability to stack hooks for multiple contacts. The .025" square pin allows for .025" square socket lead options to be easily attached.
The P25 test hooks can be purchased individually, as an R/B set of 2, or a set of 10 assorted color. Larger Kilo color sets using our kilo-color combinations are ideal for easy identification when multiple hook-ups are required.
The P25 is also available in a non-magnetic version. Please select non-magnetic spring option if you require a P25-NM. Customization is available.
Custom Assemblies Is Our Standard
Test and measurement accessory users like their testing equipment customized to fit their specific applications. Thankfully, E-Z-Hook is more than willing to work with our clients to meet their demands. Give us a call and let us know what you are looking for in your electronic test accessory so we can work with you to fulfill your request. See how we have helped others meet their needs by clicking the above link.
Keeping pace with the latest developments, the E-Z-Hook team manufactures products that satisfy the changing needs of customer and industry requirements. All products are constructed of high quality materials and assembled to meet rigorous manufacturing standards. E-Z-Hook is committed to meeting the changing needs of their customers and the constantly evolving marketplace. Our no minimum, direct order approach ensures quick delivery of the correct product to solve your immediate needs.
At E-Z-Hook, we've got your custom assembly ready.