E-Z-Micro-Lock Hook XG40
Featured Product from E-Z-HOOK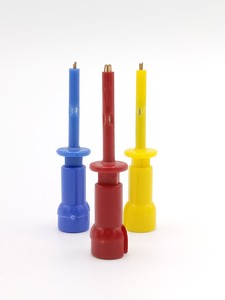 The E-Z-Micro-Lock hooks are designed to slip into plated-through PC board test point holes and lock into place to free your hands and provide a safe, short-free connection. The E-Z-Hook Micro-Lock hooks come in 3 sizes and 10 assorted colors to fit your PC Board.
The XG40 is designed with a locking hook that keeps contact from slipping out of the PC Board testing point by hooking itself to the board itself with a back hook that latches on more securely to the larger PC-hole diameters.
Standard Lengths and Customization are available.
Model and PC Hole diameters:
XG40—Fits diameters from 0.040" (1.0160mm) to 0.042" (1.0668mm)
XG25—Fits diameters from 0.025" (0.6350mm) to 0.027" (0.6858mm)
XG31—Fits diameters from 0.031" (0.7874mm) to 0.033" (0.8382mm)