E-Z-Nailclips Test Terminals
Featured Product from E-Z-HOOK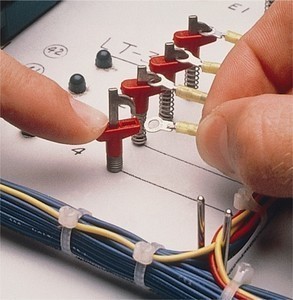 E-Z-Nailclips™ are perfect for pretesting circuits, breadboards, components and experimental hookups. The E-Z-Nailclip simple fingertip operation holds wire ends firmly in place for a quick, sure connection which allows for fast and efficient harness board construction. E-Z-Nailclips drive into wood like a nail using the T-20 accessory tool, or can be pressed into predrilled holes.
All E-Z-Nailclips™ models are available with factory installed adapters. Our E-Z-Nailclip test terminal adapters are available with threaded posts, banana plugs, spade lugs and terminal rings.
E-Z-Nailclips™ kits are packaged to include either 24 or 50 E-Z-Nailclips. Select the nailclip style that best fits your requirement.
E-Z-Hook offers a full line of nailclips, test terminals and harness board nails in our harness boards collection. E-Z-Nailclip™ test terminals and bread boarding kits are ideal for holding wire ends firmly in place. The simple fingertip operation makes connections hassle-free. Offering a variety of designs our nailclips provide efficient harness board construction and can be driven directly into wood like a nail or used in predrilled holes and breadboards. Harness board nails are available in various sizes, from 1.25" to 5" in length and with varying diameters.