XEL Macro-Hook to Alligator Clip Test-Lead
Featured Product from E-Z-HOOK, a division of Tektest, Inc.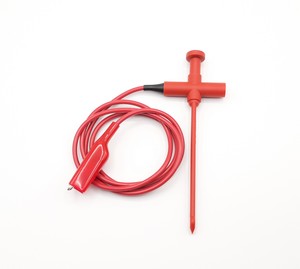 E-Z-Hook 619XEL test lead features our XEL Insulation Piercing E-Z-Macro-Hook to 9274 Insulated Alligator Clip. The XEL offers a shrouded banana plug socket for additional connections. These test leads utilize 18 AWG PVC wire or 20 AWG PVC coil cord wire. This test lead is a staple for our automotive clients' testing needs.
XEL Macro-Hook with Banana Sockets, Insulation Piercing
The insulation-piercing XEL hook is designed for piercing wire from 18AWG to 32 AWG. The chisel-tip design allows separation of a single wire in dense wire groups for easy connection. The T-Shaped handle has shrouded banana sockets on either side, allowing user to easily plug in test leads from any angle.
The contact point is a single piece of stainless steel inside an insulated shaft with no sliding contacts, ensuring accurate test results. The narrow body design makes testing easy in smaller, hard to reach areas.
Our 9274 Standard Alligator Clip is a Standard alligator clip in plated steel with a Vinyl Insulation of molded PVC. The length of the clip is 2.25 inches.
Our 18 AWG PVC wire comes in the standard lengths of 12" to 60" and our 20 AWG coil cord has an extension length of up to 60".
Available in 10 standard colors and sets for all your testing requirements.
About E-Z-Hook
For over 63 years, E-Z-Hook is a family-owned, US-based Manufacturing company with products sold as innovative solutions for Electronic Test and Measurement needs worldwide. Our Electronic Test Accessories product lines are recognized in multiple industries for their durability, design, and customization capabilities. With the ever-changing pace in technology, E-Z-Hook continues its dedication to meeting and manufacturing products to satisfy the changing needs of our customers and evolving marketplace. We are ISO: 9001 certified.
Standard Product Line:
Test Hooks
Test Probes
Test Leads
Coaxial Cable Assemblies
Harness Board Accessories
Connectors & Adapters
Wire & Cable
Kits
Industry Focus:
Aerospace
Automotive
Electronic
Energy
Defense
Medical
Hobbyist
Choosing E-Z-Hook means:
Comprehensive and quality product lines
Custom solution capabilities
Excellent customer service
Competitive pricing
Quick Delivery
Engineers, researchers, and technicians have trusted E-Z-Hook for their testing and measurement requirements. For research and development, maintenance, or product prototypes, E-Z-Hook's Engineering team is willing to work with our clients to customize our products to their specific needs. All products are constructed of high-quality materials and assembled to meet rigorous manufacturing standards. Our no minimum, direct order approach ensures quick delivery of the correct product to solve your immediate needs.