Custom Manufactured Mica Band Heaters
Product Announcement from EZ Heat Corporation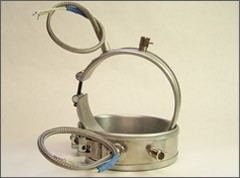 EZ Heat Corporation manufactures a full line of Mica Band Heaters, custom manufactured to your specifications. Don't settle for an off-the-shelf band heater that is almost what you need! Get exactly the band heater you need from EZ Heat Corporation!
Typical applications:
Plastic Injection Molding Machines
Plastic Extruders
Blow Molding Machines
Food Service Warming
Pulp and Paper Processing
Extrusion Dies, Barrel and Heads
Hot Runner Molds
Holding Tanks
Drum Heating
Food and Candy Extruders
Maximum recommended watt density, 40 watts per square inch, 11.00" ID and under, 25 watts per square inch 12.00" ID and over. Maximum recommended amps; Post Terminals: 25 amps, Leads: 12.50 amps. Maximum recommended voltage 480v. Our Mica Band Heaters rated up to 900 degrees F. Maximum Diameter for a one piece heater is 30".
---