CHEMICAL COMPOSITION OF BEARING MATERIALS
Featured Product from EZO SPB-USA, LLC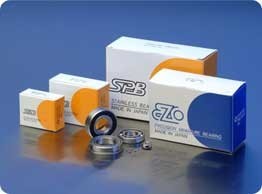 CHEMICAL COMPOSITION OF BEARING MATERIALS
Standard material for rings and balls is a vacuum degassed high carbon chromium steel allowing for high efficiency, low torque, low noise level and long bearing life. For bearings requiring anti-corrosion or heat-resistance properties, martensitic stainless steel is used.
Watch>>>EZO Precision Ball Bearings
EZO Ball Bearings... You Can See The Difference
EZO-SPB bearings are most sought after for use in applications such as; medical devices, aerospace products, power tools, machine tools, auxiliary power supplies, blowers, actuators, gyros, generators, vacuum pumps, food processing, robotics, x-ray machines, dental drills, centerfuges, paristaltic pumps, slot cars, atvs, linear motion devices, yoyo bearings, go carts, fishing reels, snow mobiles, dental products, AC/DC motors, automotive, marine applications, rotary encoders and semi conductor manufacturing equipment.