Design & Characteristics of Radial Ball Bearings
Featured Product from EZO SPB-USA, LLC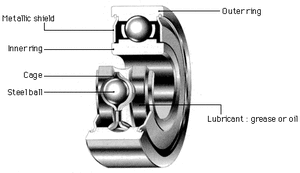 Design & Characteristics of Radial Ball Bearings
LOAD Single row radial ball bearings with balls separated by a cage can support radial loads, axial loads and tilting moments. A full complement V-type ball bearing can support only radial loads and some low axial loads.
SPEED Maximum permissible speeds for ball bearings are mainly related to the bearing design and size, cage type, bearing internal clearance, method and type of lubrication, manufacturing accuracy, sealing methods and loads.
TORQUE AND NOISE LEVEL Single row radial ball bearings are precision components and have low torque and noise levels.
INCLINATION OF INNER/OUTER RINGS Shaft and housing seats with poor accuracy, fitting errors and shaft bending might cause inclination between the inner and outer rings although the internal clearance of the bearing will permit this to a certain extent.
Generally, the maximum permissible inclination between the inner and outer, rings is approximately l in 300.
TOUGHNESS Bearings under load deform elastically at the contact point between the rolling element and bearing ring. This in influenced by the bearing type, size, form and load.
INSTALLATION AND REMOVAL The single row radial ball bearing is a non-separable bearing.
Therefore, shafts and housings should be so designed to enable bearing inspection and replacement when necessary.
AXIAL LOCATION Improved axial location is obtation with NR and F type bearings.

Watch>>>EZO Precision Ball Bearings
Basic Rules for Selecting and Handling of Bearings
NOTES ON SELECTING
•The efficiency of thin type bearings can be greatly affected by the precision of shaft and housing seats. The accuracy of the surrounding structure must be such that it will not adversely affect the operation of the bearing. If you have any questions, in particular regarding series 670 and 680, please contact us.
•In applications with steel crown type cages ( w type), where high acceleration, heavy loads, shock loads or vertical shafts occur or where oil is the only lubricant available, please contact us.
•Selection of fitting clearance and grease type requires a careful consideration of rotating speed, load conditions and temperature in order to prevent premature bearing failure.
•Full complement ball bearings are suitable for low speed and heavy radial load conditions. There is a danger of balls being pushed out of the bearing through the filling slot, even under light axial load. For this reason, full complement ball bearings are not suitable for supporting axial loads.
NOTES ON HANDLING
•The actual assembly area should be kept free from dust as any contamination has a detrimental effect on the operation and life of rolling bearings. If there is any doubt concerning the cleanliness of a bearing, it can be washed with a suitable agent and then relubricated.
•When fitting bearings, the fitting forces must not be transmitted via the rolling elements. If it is necessary to heat the bearing to facilitate fitting, the temperature should not exceed +120.
•After assembly, the bearing should be rotated to check its correct operation. If the bearing does not appear to be functioning correctly, it should be re-examined to establish the cause of the malfunction.
•It is not advisable to mix oils and greases as this will affect the efficiency of the bearing.
•Bearings must be stored in a clean environment with stable temperature. They should be handled with care to avoid the possibility of corrosion and rusting.
•Lint-free cloth must be used to wipe shaft and housing seats to avoid the ingress of contaminants into the bearing.
Technical Info:
EZO Ball Bearings... You Can See The Difference
EZO-SPB bearings are most sought after for use in applications such as; medical devices, aerospace products, power tools, machine tools, auxiliary power supplies, blowers, actuators, gyros, generators, vacuum pumps, food processing, robotics, x-ray machines, dental drills, centerfuges, paristaltic pumps, slot cars, atvs, linear motion devices, yoyo bearings, go carts, fishing reels, snow mobiles, dental products, AC/DC motors, automotive, marine applications, rotary encoders and semi conductor manufacturing equipment.