Battery Room Safety - Detection/Ventilation Combo
Featured Product from Eagle Eye Power Solutions, LLC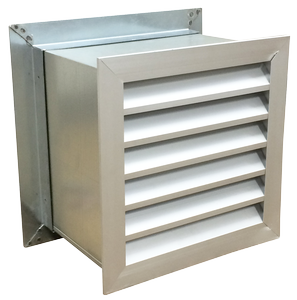 The VS-12 gas ventilation system comes as a single piece. Installation requires a 12.25 x 12.25 inch opening in the wall with a minimum wall thickness of 1.5 inches to a maximum of 8.5 inches. The fan includes a sliding collar for easy installation to wall thicknesses. A clearance of four feet is recommended from the wall in front of the unit. The VS-12 is attached by using normal fasteners. Multiple HGD-3000 units can be wired to a single VS-12 fan if needed.
All-In-One Detection and Ventilation:
Hydrogen Gas Detection and Ventilation
If a battery room has hydrogen gas buildup, the HGD-3000 gas detector will turn on the fan when the atmosphere reaches 1% hydrogen. Alarms will sound at 2% concentration, well before the LEL of 4.1%. If 2% LEL is detected, the VS-12 fan automatically vent the hydrogen gas out of the room.
Smoke Detection and Ventilation
The HGD-3000 has a photoelectric smoke sensor built in which detects minute combustion products from smoldering wire insulation, battery cases, and other material. When smoke is detected, a distinctive alarm is emitted from the 80db horn and a separate dry contact switch is activated. At this time, the VS-12 exhaust fan is inhibited in order to deny the fire increased oxygen from outside air.
Temperature, Loss of Power, and Intrusion
During normal operation and in the absence of an alarm condition, an internal thermostat will turn on the VS-12 exhaust fan at a preset temperature to reduce heat buildup in the room. Loss of power to the unit will also generate a dry contact alarm. Additionally, an optional infrared intrusion alarm will trigger a silent dry contact switch.
The VS-12 Kit Includes:
Eagle Eye also offers a larger 24 x 24 inch, 4-fan system with additional capabilities. See the HGVS-1000 Hydrogen Gas Ventilation System for other ventilation needs.