Continuous Specific Gravity Monitoring Hydrometer
Featured Product from Eagle Eye Power Solutions, LLC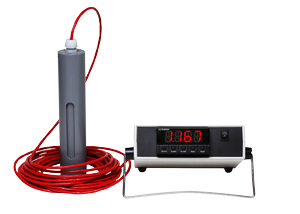 The Eagle Eye SG-100M electronic hydrometer/specific gravity measurement meter/ liquid density monitor can replace ordinary glass bulb and optical refractometer hydrometers that are limited in range, utility and functionality. The SG-100M electronic hydrometer has an in-tank, drop-hang submersible density meter that monitors and records specific gravity/liquid density during a mixing, blending or plating operation. The SG-100M electronic hydrometer/ density meter offers many user-customized options that allow the instrument to fit your exact density measuring needs. The density measurement probe can be purchased independently or for integration into an existing PLC (Programmable Logic Controller). An optional 4 -20 mA analog output board for automatic process control is available. Cabling is either Teflon or PVC depending on the measuring sample.
The SG-100M is easy to use and versatile. Simply submerge the measuring probe up to 152 m (500 ft) and connect to an electronics module to provide digital readouts of user defined values such as Density, Specific Gravity, Baume, and Brix. It can measure in liquids or slurries with an operating pressure range of 0 – 5 atm (operable in vacuum). The measurement probe is chemically resistant with PVC/Teflon wire strain relief and 316 stainless steel springs.
The Standard SG-100M Kit Includes:
SG-100M Digital Panel Meter
SG-100M Measurement Probe
PVC Cable (Standard Lengths: 3 – 30.5 m (10 – 100 ft)
User Manual

Optional:

Teflon Cable for Caustic Solutions
Custom packages allow the SG-100M to meet your system's requirements. The SG-100M measurement probe can be purchased as a stand alone piece to use within your system and PLC. The optional 4-20mA analog output allows for automatic process control, allowing you to continuously monitor and manage your solutions.
At Eagle Eye we are proud to offer a range of products designed to save you in maintenance and replacement costs. See our selection of power solutions, including gas detectors, battery electrolyte level monitors, and more.