Intrinsically safe for industrial environments
Featured Product from Eagle Eye Power Solutions, LLC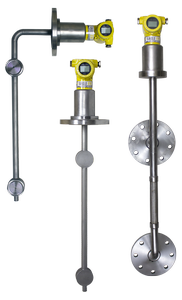 The Eagle Eye DM-Series Inline Density Meters are continuous monitoring tools designed for process control of liquid concentration/density and temperature of solutions across a wide range of applications. Available in three different mounting configurations, the DM-Series inline density meters can be integrated directly into a variety of tanks and inline systems.
Each DM-Series Density Meter consists of a capacitive-type differential pressure transmitter which is tied to a pair of pressure repeaters immersed in the solution being measured. Temperature compensation is performed by a temperature sensor located between the two pressure repeaters. Small variations in the process temperature are quickly and accurately calculated through dedicated software.
The DM-Series has been designed for a wide range of applications including petroleum, gas & oil production; food, beverage and alcohol processing, and chemical production and monitoring. The digital LCD display allows the user to easily read any custom-configured units that can be alternated during operation. The DM-Series is low-maintenance after installation, easy to clean, and allows for safe operation and continuous testing. The DM-Series is highly accurate and repeatable and is calibrated for long-term operation. Installation of the density meter is simple and quick with minimal downtime or disturbance. The ability to measure density, density-related values and temperature simultaneously make the DM-Series a cost-effective, long-term solution for any continuous monitoring needs.
The DM-Series Inline Density Meter Includes:
DM-Series Unit (A, B, or C)

DM-1000A:

Mounted to top

DM-1000B:

Mounted to side

DM-1000C:

Mounted to side/flex-pipe option for uncommon fittings

Installation Manual
User Maintenance Guide

Optional:

Handheld Communicator or Modem

Optional:

Mounted Bracket
The DM-Series is offered in three standard models, the DM-1000A, DM-1000B, and DM-1000C. All three models can be mounted in various ways to fit your needs. The DM-1000A is mounted on the top of a tank, the DM-1000B is mounted on the side, and the DM-1000C is mounted on the side of a pipe/tank and includes a flex-pipe configuration for uncommon fittings. All three meters can be ordered as intrinsically safe for industrial environments or sanitary for the food and beverage industry.