Measure Specific Gravity and Density in Seconds!
Featured Product from Eagle Eye Power Solutions, LLC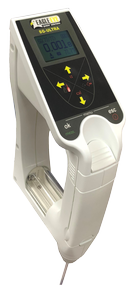 The Eagle Eye SG-Ultra digital hydrometer/density meter offers 99.999% accurate, temperature-compensated specific gravity, density, and density-related values. Select from multiple units of measure to suit your measurement needs or create custom user-defined requirements. The SG-Ultra is commonly used for battery testing (lead-acid & Ni-cad), alcohol and food testing, petroleum testing, and other custom density tests.
The SG-Ultra Kit Includes:
SG-Ultra Body
(1) Sample Tube (7" x 1/8")
IrDA Adapters
SG-Ultra Management Software
Carrying Case
User Manual
Store up to 1,100 measurement results internally with the SG-Ultra digital hydrometer/density meter. Results include sample identification, measurement unit, temperature correction coefficient, instrument identification and date & time. Results can be downloaded to a printer or PC easily with included infrared adapters. Every SG-Ultra comes pre-assembled and ready to test out of the box. Reliable results appear in seconds - just immerse the sampling tube, pull the trigger, and read the final result. Review and trend these results with included management software.
The SG-Ultra specific gravity tester is user-friendly, utilizing an easy-to-navigate interface with a backlit display. The user has total control for perfect measurements. With the SG-Ultra digital hydrometer, the sampling speed can be adjusted to the task. Slower triggers avoid the formation of air bubbles while fast triggers rinse the cell chamber efficiently. The cell chamber is clearly visible at all times to avoid problematic results caused by air bubbles or impurities.
Be sure to check out our selection of digital hydrometers, including the SG-1000 battery digital hydrometer, a critical tool in determining the charge level of lead-acid batteries.
The SG-Ultra has a measuring range of 0.000 to 2.000 g/cm³. If you need a larger measurement range, the Eagle Eye SG-Ultra Max digital hydrometer/density meter will fit your needs, with a measurement range of 0.000 to 3.000 g/cm³.