NEW Industrial Float Battery Chargers!
Featured Product from Eagle Eye Power Solutions, LLC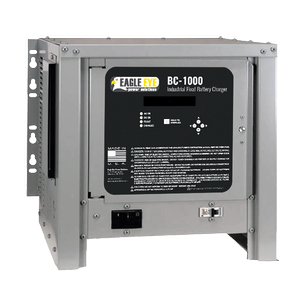 The BC-1000 is a stationary float battery charger designed for use in utility, switchgear, and other industrial environments. Nominal ratings include models at 24, 48, or 130 volts DC and 6 to 50 amps DC. Built-in alarms are included for high DC voltage, low DC voltage, positive and negative ground fault, and end of discharge. The unit has digital controls and an LCD display. A number of safety features are included such as wire protection on all field terminals and full AC input and DC output protection. All BC-1000 units include a standard 5-year warranty.


Standard Features
LCD Display and Navigation Pad
Field Programmable with Security Levels
Compatible with a wide variety of battery types
Vented lead-acid (VLA), valve regulated lead acid (VRLA), and nickel-cadmium (Ni-Cd)
AC, DC, Float and Equalize Indicator LEDs
High / low DC Voltage Alarm
High / low DC Voltage Alarm and AC Fail Indication
Positive and Negative Ground Fault Alarm
High DC Voltage Shutdown
Summary Alarm Relay
Summary Alarm Buzzer
Push Button Mode Selection
Full AC Input and DC Output Protection
AC Input and DC Output Circuit Breakers
Control Panel and Circuit Breakers Recessed
AC and DC Surge Suppressors
Wire Protection on all Field Terminals
Bottom / Side Cable Entry
Compression Terminal Strip for Field Wiring
Optional Features
Enhanced DC Output Filtering / Battery Eliminator
Individual Alarm Relay Contact Board
AC Input Lightning Arrestor
Remote DC Voltage Sensor
Remote Battery Temperature Sensor
Conformal Coated Electronic Boards
EIA 19-inch or 23-inch front Rack Mounting