Protect your equipment from harsh environments!
Featured Product from Eagle Eye Power Solutions, LLC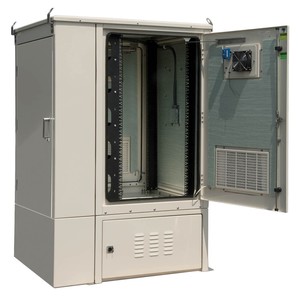 The ENC-2000 is designed to protect your equipment in the harshest of environments. Constructed to meet high quality standards, the ENC-2000 protects your equipment from the worst mother nature can throw at it. Heat kills, especially sensitive electronics. This enclosure is equipped with a Solar Shielded roof to shield your electronics from the destructive effects of Solar load. The ENC-2000 can also be equipped with air conditioning, heat exchangers and/or fans to create the optimal environment for your electronics.
Product Features
.125 Aircraft Grade Aluminum: Outstanding corrosion resistance
NEMA Protection:This enclosure protects against rain, sleet, snow, splashing water and damage from external ice formation
Stainless Steel Hardware: We choose the highest quality materials to produce our enclosures. Type 304 stainless steel hardware will not rust in the field
GR487 Powder Coat: Enclosures are powder coated and tested to the Telcordia GR487 specifications for telecom enclosures
Power: Pre-wired 20 Amp receptacles are a standard feature
Numbered Adjustable Equipment Racks: 19″ or 23″
Solar Shield Roof: Includes a double wall roof to reduce the radiant heat and internal cooling requirements of the enclosure
Ground Terminal Strip: 12 position aluminum strip
Locking: Extremely secure, strong and impermeable. Lockable handles and hinges are made from Type 304 steel
Lifting Eyes: Crane ready lifting eyes for convenient way to offload and position your enclosure
Battery Compartment
Applications
Wireless Backhaul Enclosure
Fiber Optics
Satellite Communications
Cable Television
Navigation & Positioning
Military Installation
General Industry
MiniCells
MicroCells
Femtocells
3G and 4G