Custom Stainless Steel Fabrication
Service Detail from Eagle Stainless Tube & Fabrication, Inc.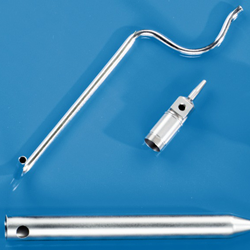 At Eagle Stainless, we have earned a reputation as industry experts in custom metal fabrication. We proudly manufacture the highest quality custom fabricated components and offer an extensive suite of fabrication services using innovative techniques and advanced technology. Whether you know the exact fabrication services you need, or you're looking for a custom solution for your unique specifications, we can help!
In order to provide our valued customers with the results they deserve, Eagle offers the widest selection of custom metal fabrication services in the Northeast. Stainless steel can be fabricated using techniques such as lathes, milling machines, welding torches, laser machining centers, stamping presses, centerless grinding, swaging, forming machines, electrical discharge machining, and more.
For an overview of our fabrication services please see this pdf download.
Choose from or combine any of our most popular services including the following:
Bending/Coiling
Flaring/Flanging
EDM (ram type)
CNC Machining
Assembly
Re-Drawing
Centerless Grinding
Welding and Brazing
Laser Welding and Cutting
Electropolishing
Annealing
General Machining
Drilling Reaming
Deburring
Bevel Cutting
Chamfering
Knurling
Threading
End Forming
Passivation, and more!