M-Max Series Machinery Drive
Product Announcement from Eaton Corporation - Drives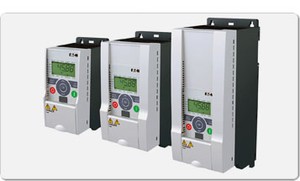 M-Max Series
With a compact design, impressive torque response and simple handling, Eaton's new M-Max Series offers you increased efficiency and product life. The M-Max Series is designed for today's machinery applications, including: conveyor belts, transport drives, packaging machines, as well as pumps and fans.
Keeping the focus on products that are easy to install, startup, maintain and troubleshoot allows Eaton to help you lower your costs (time and money) when it comes to making your application run smoothly. Make the maximum impact on your process, with a minimum amount of energy, by choosing the M-Max Series.
The M-Max Series uses a 32-bit microprocessor and insulated gate bipolar transistors (IGBTs) that provide quiet motor operation, high motor efficiency, and smooth lowspeed performance. The integrated proportional-integral (PI) controller, RFI filter and brake chopper, as well as the extensive motor-protective functions ensure a high level of operational reliability and allow significant energy savings—all while keeping the drive compact for use in tight spaces. M-Max drives come with a host of functions dedicated to solving your application needs including flying start (starting into a running motor), configurable responses in the event of a fault, and Modbus-RTU protocol as standard. All enable robust, efficient performance.
Key Features
Supports connection of external 24V control power to maintain control and communication in the case of a main power loss
Optional accessory enables an IP21, NEMA Type 1 degree of protection
Modbus-RTU as standard serial fieldbus
Several fieldbus options (CAN, PROFIBUS DP, DeviceNet)
Meets UL, CE, cUL, C-Tick and RoHS standards
Models are rated at:
¼–1½ hp @ 115V
single phase
50/60 Hz
¼–3 hp @ 240V
single- or three-phase
50/60 Hz
½–10 hp @ 480V
three-phase
50/60 Hz
Click here to learn more.
---