Eaton 9355 UPS w/ Network Monitoring Software!
Product Announcement from Eaton | Power Quality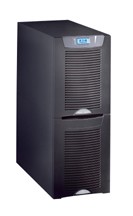 Eaton 9355 UPS
With advances in miniaturization and processing power, a single rack of equipment will soon demand 15 to 30 kVA of power—and more equipment than ever will be served by dual-cord power supplies. It's a challenge to provide power protection for expanding loads in shrinking spaces. That's the reality for which Eaton designed the Eaton 9355 UPS. This advanced UPS delivers 10 kVA or 30 kVA of power protection in a sleek tower configuration which includes internal batteries. With such a small footprint, you have more options for locating the UPS and more data center space available for future expansion.
The innovative design of this UPS delivers the industry's best performance combination of high efficiency, low input current distortion and high power factor. The cumulative result of these advancements is maximum economy, adaptability, and power performance.
Best of all, this advanced technology comes in an easy-to-use product. Installation is easy. You can order the 10-15 kVAUPS with your choice of output receptacles, choosing from 18 types. Later, when you need to change or move data center equipment, simply unplug from the old receptacle, plug into a new one, and go. There's no need for an electrician to run new conduit and wiring.
The 20-30 kVA models offer features like dual-feed inputs, a 480-volt output transformer, and input and output breakers internal to the UPS.
Features and Benefits
Protects connected equipment from all nine of the most common power problems
Provides more real wattage in less space with a .9 power factor—protecting more equipment and leaving more room for expansion
Delivers extra capacity or redundancy through patented Powerware Hot Syncâ technology for paralleling of multiple modules
Increases battery life through proven ABM technology, a microprocessor-controlled advanced battery management technique
Ensures data and system integrity with complete power management software for remote monitoring, management, and shutdown
Eliminates utility distortion and increases reliability by reducing total input harmonic distortion (THD) to less than five percent
Additional Features & Benefits
The double-conversion online design of this "9-series" UPS completely isolates equipment from utility power to protect against all nine of the most common power problems, including outages, sags, surges, spikes, brownouts, line noise, frequency variation, switching transients, and harmonic distortion.
The space-saving, attractive design of this compact tower package delivers high power density per square foot. A small footprint also supports more location options, fast and easy installation, lower deployment cost, and more space available for future expansion.
A high 0.9 output power factor delivers more power than the vast majority of competitors' models. This UPS can actually power more equipment than other UPSs of equivalent VA rating that have lower power factors.
High efficiency (up to 92 percent across all load ranges) reduces utility costs and runs cooler, which in turn extends component life.
Low input current distortion (less than five percent total harmonic distortion, THD), allows maximum transfer of power between power source and protected load, and makes this UPS exceptionally friendly to generators.
Eaton Hot Sync technology allows you to parallel up to four equivalent UPS modules for extra capacity or redundancy, ensuring that critical systems are always protected. Parallel configurations can provide up to N+3 redundancy. No inter-module communication wiring is needed. Our patented load-sharing control distributes the load equally and ensures that loads remain fully protected even if a paralleled UPS is unavailable.
Eaton's exclusive ABM® technology uses advanced battery management to significantly increase battery life, using an innovative three-stage charging technique that offers prolonged rest periods between charge phases, as well as temperature-compensated charging that optimizes recharge time.
Eaton's lightweight batteries are user-replaceable. One person, working alone, can replace a battery without disrupting data center operations or power to protected equipment. Extended Battery Modules can be added to extend battery backup time to hours, if desired.
The UPS comes with LanSafe power management software that ensures data and system integrity, using an intuitive, graphical interface and SNMP (Simple Network Management Protocol) to provide control and visibility over multiple UPS products.
A complete suite of connectivity options enables secure remote monitoring over your existing LAN or Internet, with real-time performance indicators, prioritized shutdown, testing, and alerts delivered to your network management system, pager, or email.
Beyond the warranty period, optional extended service plans are available to match any need—from basic UPS and battery support to advanced remote monitoring with trending, customized UPS and battery capacity planning reports, and comprehensive power protection audits.
---