Eaton® Enclosure Power Distribution Unit (ePDU)
Product Announcement from Eaton | Power Quality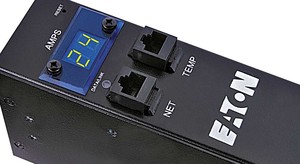 Effectively distribute power to 4 to 45 receptacles in high-density rack environments. The plug-and-play architecture organizes power distribution, simplifies cable management, and lets you add and change IT equipment without an electrician. With this tiered product family, you can select the desired combination of features and power rating for each application.
Eaton offers the following technologies:
Basic (BA) – Rugged Construction & Flexible Mounting Options
Designed for reliable and cost effective power distribution, Basic ePDUs have the form factor and receptacle choices to meet the needs of the demanding data center architect. With power levels ranging from 1.4kW all the way to 17kW, Eaton has the right Basic ePDU for any application.
Monitored (MO) & Monitored Network (MI)
Remote and Local Current Monitoring Eaton Monitored ePDUs offer customers the opportunity to remotely monitor the current draw of individual sections via Ethernet or Serial. This, combined with state-of-the-art software allows the user to aggregate the information from thousands of ePDUs in one location. All Monitored ePDUs also include the Easy-Read Digital LED Ammeter for easy start-up and provisioning of servers.
Advanced Monitored (AM) – Current Monitoring Per Outlet
Designed for high-density, mission critical server applications, the Advanced Monitored ePDU provides maximum power for both standard and blade servers. Employing multiple configurations, the Easy-Read digital ammeter and remote power management with clearly labeled circuits, the ePDU assures easy management and monitoring for current requirements and future expansion.
Emergency Power Off (EM) & Remote EPO (REPO)
Products with EM (Emergency Power Off) are frequently used in test & Measurement applications. Eaton offers a full range of products with this feature from basic North American models to 3-Phase international units. Use your own switches or simply plug-in our Remote Control Panel (RCP) into a ePDU.
Switched (SW) – Individual Outlet Switching & Sequencing
Designed for data centers needing remote site management, the switched ePDU provides remote power monitoring of both voltage and current. The current is also displayed on a local two-digit current meter. These units also allow for environmental monitoring for temperature and humidity. The Switched ePDUs employ multiple configurations, available in 1U and 2U rack mount, and 42" or 70" vertical lengths, providing individual on/off/reboot control of up to 36 receptacles. The control interface is highly customizable with multiple functions and flexibility, allowing setup to send either SNMP traps or e-mail alerts.
Eaton ePDU offers distribution by power rating:
Standard Density (0-5kW) Our Standard Density ePDUs have up to eight 1U/2U servers or peripherals, such as network switches, environmental monitors, KVM devices and rack accessories High Density (5-10kW) Our High Density ePDUs have up to 25 1U/2U servers or three blade server chassis, offering up to 45 receptacles in multiple form factors. Ultra High Density (10+kW) Our Ultra High Density ePDUs are for racks with up to four blade server chassis and power-hungry pieces of IT equipment.
---