E52Q Cube Inductive Proximity Sensors
Product Announcement from Eaton Corporation - Sensors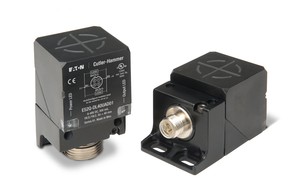 For more information on E52Q Cube, visit Eaton's E52Q Cube Product Page.
RUGGED INDUCTIVE SENSORS IN INDUSTRY-STANDARD PACKAGE STYLE
The Cutler-Hammer® E52Q Series is a high performance, cube-style inductive proximity sensor. This family of inductive sensors provides long sensing ranges in a compact, industry-standard package.
The E52 Cube family features Eaton's exclusive auto-configure output technology, which automatically detects NPN or PNP wiring states and switches the sensor accordingly, without user intervention. The E52 also utilizes complementary outputs to further reduce the number of models needed to cover a wide array of inductive sensing applications. Individual power and output LEDs make installation and troubleshooting easy. Combine the above features with the range and five-way mounting flexibility of the E52 Cube family, and chances are there's an E52 solution to your sensing needs.
The E52 Cube was designed with the most heavy-duty applications in mind. Some of those applications include automotive manufacturing, aggregate machinery, and metalworking applications. Try the E52 Cube in some your most demanding applications today.
PRODUCT FEATURES
Long inductive proximity ranges available (up to 40mm sensing distance)
Complementary outputs (1NO/1NC) on 4-wire DC models
Auto-configure technology on 4-wire DC models, which allows the sensor to automatically change itself to NPN or PNP without user intervention
Robust design featuring vibration and impact-absorbing potting compound
Ideal for extreme temperatures or high pressure washdown environments
Five-way adjustable sensing head
RATINGS & APPROVALS
CE
NEMA 4, 4X, 6, 6P, 12 and 13 (IP67, IP68)
For more information on E52Q Cube, visit Eaton's E52Q Cube Product Page.
---