E56 Pancake Inductive Sensors
Product Announcement from Eaton Corporation - Sensors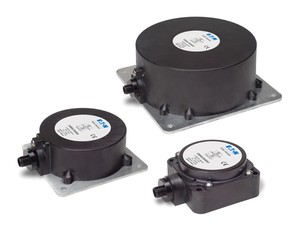 For more information on E56 Pancake, visit Eaton's Product Page.
LONG RANGE, PANCAKE STYLE SENSORS DESIGNED FOR HEAVY-DUTY USE
The Cutler-Hammer® E56 Series is a high performance inductive proximity sensor. The E56 Pancake provides greater sensing ranges than other inductive sensor package types.
The E56 Pancake family provides convenience and ease of wiring with auto-configurable, complementary outputs. (Auto-configurable outputs automatically detect an NPN or PNP output configuration and switch the sensor accordingly, without user intervention.) Power and output LEDs make troubleshooting much easier than conventional proximity sensors, which usually only feature output LEDs. These convenience features, combined with the performance of the E56 Pancake, make it an excellent inductive sensing solution for applications requiring an extremely rugged, long-range sensing solution.
FEATURES
Longest inductive sensing ranges available (up to 100 mm)
Three sizes to meet your application needs, with maximum ranges of 50, 70 or 100 mm
Complementary outputs (1 N.O. / 1 N.C.) on 4-wire DC models
Auto-configure output technology on 4-wire DC models, which automatically detect how the sensor has been wired (NPN or PNP) and switch the sensor without user intervention
Small diameter, 2-wire AC/DC models feature a selector switch inside the housing, enabling output contacts to be used as either N.O. or N.C.
Robust design featuring vibration and impact-absorbing potting compound
Ideal for extreme temperatures or high pressure washdown environments
RATINGS & APPROVALS
CE
NEMA 4, 4X, 6, 6P, 12 and 13 (IP67)
For more information on E56 Pancake, visit Eaton's Product Page.
---