Global Series Inductive Proximity Sensors
Product Announcement from Eaton Corporation - Sensors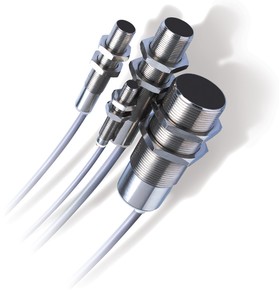 For additional Global Series product information, visit Eaton's Product Page.
OVERVIEW
The Cutler-Hammer® Global Series proximity sensor family was created by Eaton's electrical business with the high volume OEM in mind. It has been optimized to include only those functions necessary for basic, reliable sensing. Why pay for extra features when you don't need them? That's not to say these sensors lack the performance or features you expect. Our DC units are short-circuit protected and will sense up to 2,000 operations per second. Plus, all sensors include a bright LED indicator to show output status.
There's no need to design your machine around these sensors. The Global family includes models in a variety of diameters so they will fit right where you need them. Select models from 8-millimeter diameter all the way up to 30-millimeter, for just the size or sensing range you require. Need something smaller? Our Small Diameter Series includes inductive prox sensors as small as four millimeters in diameter.
The Global Series is available in AC or DC, 2-wire or 3-wire, and NPN or PNP. You can even choose between cable wiring or quick-disconnect connectors. For power handling, our DC units feature a 100 mA load current rating and AC units are rated up to 200 mA.
FEATURES
The Global Proximity Line features solid performance and a basic feature set for reliable, cost-effective sensing
Available in a variety of sizes to fit in all of your applications: 8 mm, 12 mm, 18 mm and 30 mm diameters
DC sensors operate on 10-30V DC in 2-wire and 3-wire (NPN or PNP) configurations
AC sensors operate on 20-250V AC in 2-wire configuration
Switching frequency of 2 kHz for DC models
Shielded and unshielded versions available
Terminations include 2-meter cable, micro-connector and nano-connector
DC units include short circuit protection
RATINGS & APPROVALS
CE (DC models only)
cCSAus (All models)
IP67
For additional Global Series product information, visit Eaton's Product Page.
---