View Series Photoelectric Sensors
Product Announcement from Eaton Corporation - Sensors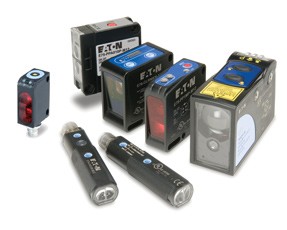 For more information on this product, visit Eaton's product page for View Series sensors.
OVERVIEW
The View Series is a new line of photoelectric sensors designed for a variety of challenging industrial sensing applications. Comprised of two families: NanoView, a new family of sub-miniature rectangular sensors; and IntelliView, a new family of compact, specialty sensors for detecting color, grayscales, contrast (colormark), luminescence (UV), and distance measurement (with analog outputs).
FEATURES
NanoViewTM family highlights:
A Complete Family of Solutions—Models include an 8.2 ft. (2.5 m) polarized reflex, a 13 in. (35 cm) diffuse reflective, a 4 in. (10 cm) fixed-focus diffuse, a 20 ft. (6 m) thru-beam; and a 2.6 ft. (80 cm) clear object detector for sensing plastic bottles, molds, cartons and films
Small Size—At less than 1.5 inches long and half an inch deep, NanoView can fit into the smallest of spaces
Fixed Focus Diffuse Models—Perfect for sensing very small targets at a 4-inch focal point. A visible red LED beam makes it easy to set up
Clear Object Detection Models—Ideal for sensing plastic bottles, molds, cartons, films and glass objects
UL and C-UL Listed, CE Approved
IntelliViewTM family highlights:
New Sensing Technologies—Now, Eaton has solutions for sensing color, contrast, luminescence and distance with great accuracy
Small Size, Big Solutions—IntelliView sensors come in either compact rectangular or flat-tubular package sizes, both rugged sealed enclosures
Simple "Teach In" Installation—Most models include a teach mode, allowing for quick and simple installation and setup
Adjustable Background Suppression—For the first time, Eaton offers a fully field-adjustable background suppression photoelectric sensor capable of detecting targets as far as 3.9 ft. (47 in.) away
LED Indicators and Pushbuttons—Multiple LEDs communicate output and power status while built-in pushbuttons and adjustment potentiometers simplify the teaching of sensor settings
C-UL Listed and CE Approved—Accepted worldwide
For more information on NanoView, including catalog supplements, specifications and pricing sheets, click here. For more on IntelliView, click here.
---