iProx™ Inductive Proximity Sensors
Product Announcement from Eaton Corporation - Sensors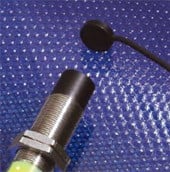 For additional product information, click the "See Product Details" link to the right of this page. To find a distributor near you, visit http://www.eaton.com/Electrical/.
OVERVIEW
The Cutler-Hammer® iProx™ represents the highest performance, most versatile tubular inductive sensor offered by Eaton's electrical business. By utilizing an embedded microprocessor and exclusive SmartSense™ technology, iProx can sense up to three times farther than typical sensors of its class, while providing an unheard-of level of customization.
Both shielded and unshielded versions of iProx feature extended sensing ranges. This allows the sensor to be mounted farther from the target, thereby reducing the potential for target impacts and increasing the sensing reliability of your application.
The iProx also includes a wide range of advanced features that can be enabled via optional programming tools. Using the freely available ProxView Windows-based software package, an entirely custom sensor can be programmed to perfectly fit an application. Sensor characteristics, such as sensing range, can be customized down to the nearest tenth of a millimeter. Outputs can be changed from N.O. to N.C. Even noise immunity and response time can be adjusted if necessary. The iProx even features built-in timing delays and speed detection logic - no PLC programming is necessary. With the ProxView software, you can save your custom sensor configurations to a database and "clone" the configuration to other iProx sensors.
With extended sensing range, quality construction and the ability to adapt to its environment, iProx is the ideal choice for even the most demanding inductive sensing applications.
FEATURES
- Available in AC 2-Wire, DC 3-Wire and unique DC 4-Wire with complementary (N.O./N.C.) or dual N.O. outputs
- Reliably detect metal targets at up to three times the range of conventional shielded or unshielded tubular inductive sensors
- Quality construction using a stainless steel barrel, 360-degree dual-color LED indicator, Ryton® impact-resistant face cap and vibration-absorbing potting compound
- Auto-configuration technology automatically detects a sinking (NPN) or sourcing (PNP) connection and switches the sensor accordingly, without any user intervention
- Exclusive SmartSense™ embedded microprocessor technology allows for customizable range, band sensing, nuisance metal rejection, timing delays and over/under speed detection
- Optional computer programming cable and Windows-based ProxView configuration software makes it easy to customize sensors
- Withstands high electrical noise (up to 20 V/m)
- Resistant to extreme temperatures (-40°C)
---