Walnut Shell As a Filler Or Extender!
Product Announcement from Eco-Shell, Inc.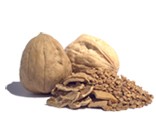 Advantages of Ground Walnut Shell
Safety/Environmentally Sound
◊ Non-toxic and biodegradable
◊ Requires no flammable solvents
◊ Dust free
◊ Natural product
◊ Use required on most U.S. Government contracts
◊ Found not to cause Silicosis (can occur from use of sand or silica products)

Cost Effective
◊ Cleans without leaving scratches or pitting
◊ Cleaned parts require no additional machining or fitting
◊ Cleans precision parts without a change in dimensions
◊ Non-corrosive
◊ Lightweight
◊ Pollution prevention

Fast
◊ Surface areas require no drying time
◊ Easy to use
◊ Fast clean up after use
◊ Easy disposal process

Elasticity and Durability
◊ Resistant to rupture and deformation
◊ Limited breakdown
◊ Can be re-used in various applications
Premier Grinders of Walnut Shell
The Crain family has been growing and processing quality English walnuts in the Sacramento Valley since 1960. Over the past forty years, the business has grown to be one of the largest walnut producing operations in the world. With this growth came the need to develop a by-products division. In 1995, ECO-SHELL, Inc. evolved allowing the opportunity to provide a full spectrum of walnut shell products.
Since ECO-SHELL was formed, it has grown and continues to upgrade its facility with the finest state of the art milling and processing equipment. ECO-SHELL is one of the premier suppliers of walnut shell media to industrial markets around the world. As a result of having a substantial in-house raw material supply partner, ECO-SHELL is capable of entering long-term contracts and can guarantee a consistent supply without interruption.
Our facility provides controlled environment storage for all of our raw shell. This is an important aspect of our quality assurance. In addition, our processing and milling operation warehouses are maintained to the highest sanitation standards. We can provide complete documentation on all process controls and Quality Control analysis data of every lot or shipment.
A sister company of Crain Walnut Shelling, Inc.® Eco-Shell products are bio-degradable, non-toxic, environmentally safe and cost effective for many industrial uses around the world.
Ground walnuts shells are a type of abrasive blast media used for cleaning. Typical substrates are metals, fiberglass, woods, plastics and stone. The walnut shells are ground to various sizes from coarse to extra fine depending on the application. The walnut shells are used in the same manner as typical blast media. Walnut shells are durable and can be re-used in many applications. Walnut shells can remove matter from surfaces without scratching or pitting underlying material.
Walnut shell is biodegradable, non-toxic, environmentally safe and cost effective for blasting. Walnut shell does not cause silicosis.
Walnut shells are used in many polishing and/or deburring applications. Walnut shell media is used for polishing or cleaning fine metals, alloys, mechanical parts, shell cartridges, eye glass lens, rocks, stones, coral, ivory, beans, and seeds.
Jewelers use walnut shell media treated with rouge in both tumbling and vibratory applications for polishing gems and fine jewelry.
When polishing the media size should be small enough to freely pass through openings or large enough to avoid lodging in openings or crevices.
The cosmetic industry uses walnut shell media as an exfoliate in facial, body and foot scrubs. Walnut shell is used by many, from the novice soap maker to the commercially distributed cosmetic lines. Eco-Shell will aid in formulating the custom grit sizes desired.
Walnut shell is used in many applications as a filler or extender. Paint and coating materials, resins, pigments, plywood, adhesives, ceramics, dynamite, tile and livestock feed just to name a few. Media sizes vary from coarse walnut shell to walnut shell flour.
Walnut shell is an all natural safe biodegradable bedding for birds, reptiles and small animals. Since walnut shell is non-absorbent it does not allow for growth of bacteria's and molds. Walnut shell is dust free, easy to dispose of and can be used in composting. A clean cage makes for a happier pet.
Walnut shell is used as lost circulation material to combat typical operational problems associated with drilling mud losses. Walnut shell is an easy and efficient solution to lost circulation problems. Walnut shell does not significantly change mud properties and can be removed and perhaps recycled with ease. Walnut shell is available in coarse, medium and fin grit sizes.
Eco-Shell has state of the art equipment and a staff that is willing to participate in developing new ideas and applications. If you have special requests or requirements, please contact the sales staff, we will gladly partner in these new developments. Our philosophy here at Eco-Shell is to find the needs of a vastly renewable resource - Ground walnut shell.
Material Safety Data Sheet
May be used to comply with OSHA'S Hazard Communication Standard, 29CRF1910.1200. Standard must be consulted for specific requirements.
ASTM Specification E-11
Inventoried Media Sizes
Custom sizes available upon request. Please contact our sales staff at info@ecoshell.com.
---