Lift & Tilt Tables
Featured Product from Econo Lift Limited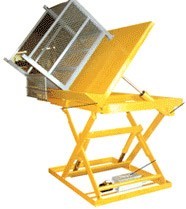 Econo Lift Lift/Tilt Tables feature bronze self-lubricating bushings and and an 8" high front retaining lip.
SAFETY
• Velocity fuses on each cylinder to eliminate the
table from collapsing due to hose failure
TILT ANGLE
• 0-30/45 degrees
LOWERED HEIGHT
• 12"
TRAVEL
• 24", 36", 42"
FRONT RETAINING LIP
• 8" high (standard)

POWER SUPPLIES
A/C 110/1/60 volt (standard)
Hand or foot operated
A/C 460/575/3/60 volt (opt.)
Hand or foot operated
Air/Hydraulic
Foot operated (standard)
Hand operated (optional)

OPTIONS
• Platforms: wider or deeper
• Bellow safety skirting
• Stainless steel, galvanized or 'steel-it' painted units
• Lift/tilt: reduced or increased
Econo Lift Limited is your industry leader in ergonomic material handling equipment.
Tilters
Lifts & Tilts
Stackers
Drive-Ons
Dumpers & Upenders
Turntables
Airbags