Prevents back strain, and increases productivity.
Featured Product from Econo Lift Limited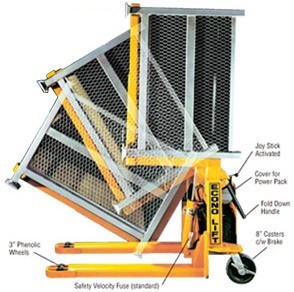 Econo Lift portable Tote Box Tilter is designed to make the lifting, handling and positioning of small parts containers easy on the worker's back. It makes parts easily reachable, prevents back strain, and increases productivity.
Tilts hydraulically to 94°
Makes parts easily reachable
- Prevents back strain
- Increases productivity.
POWER SUPPLIES
D/C Battery - Joy Stick Controlled
Air/Hydraulic - Foot Pedal (80 p.s.i., 20 c.f.m. min.) with hand held pendants optional
A/C 115/60/1 - Hand Held Pendant
OPTIONS
Forks - longer/shorter, higher / lower to 3", wider / narrower
Tray attachment
Height of backplate at 90° can be higher or lower
Econo Lift Limited is your industry leader in ergonomic material handling equipment.
Tilters
Lifts & Tilts
Stackers
Drive-Ons
Dumpers & Upenders
Turntables
Airbags