Tight tolerance micro-stamped components
Service Detail from Economy Spring & Stamping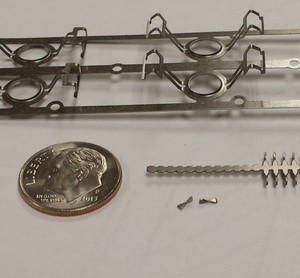 Stampings
Stampings: Progressive Die, Shallow Draw, Eyelet and Fourslide
Tight tolerance micro-stamped components allow device engineers to create unique geometry for implants, electrical circuit path designs, robotic platforms and medical instrumentation that push the physical device boundaries to microscopic levels
Creating, stamping and assembling precision components out of metal is a core competency of Economy Spring & Stamping. Our significant investment in equipment, metrology, quality processes and top-notch professionals ensures the components we produce meet all the demanding performance attributes needed for a successful device.
We deploy our engineering assets up front to optimize the design of precision metal components including surgical skin staples, titanium ligation clips, battery contacts and implantable parts. These metal components make up the heart of device instrumentation inherent in laparoscopic and endoscopic devices.
Recently, the global expansion of connected devices has pushed design capabilities smaller. This includes data collection/circuit components that allow medical and pharmaceutical OEM's to reduce the physical size of their products.
We believe in using a team approach to engineer the right solution for your product. We harness a collective 700-plus years of engineering expertise from product design/development, tool design, quality processing and manufacturing excellence that our team members bring to support your project.
However, at Economy Spring & Stamping, we aren't satisfied with just making great products. The goal is to produce the best possible components in a continuous improvement environment, which perform consistently throughout the life of your program.
Economy Spring & Stamping
Economy Spring is a manufacturer of precision and custom wire forms, metal stampings, coil springs, tubular components, and product assemblies, optimized for the medical, pharmaceutical, aerospace, and industrial markets. We provide prototype services with our in-house tool engineering and preliminary pilot production that helps support initial device development programs. Production is supported by our highspeed, state-of-the-art manufacturing equipment.
The manufacturing capabilities we employ include coiling for compression springs, bending/winding complex part shapes in our CNC wire forming machines, production of fourslide components, and progressive stamping of technical metal components. Our manufacturing areas work with round material, shaped material, and tube stock. The Economy Spring engineering team is always available to assist customers with development of their product parameters, optimizing the design intent or helping with product packaging considerations that will help facilitate line-automation techniques.
Our manufacturing environment provides project support through advanced quality planning and precision production methods through our skilled engineering. Customer satisfaction stems from our versatility and continuous improvement methodology that continue to assure product compliance. These qualities are inherent with all of the components that are manufactured with our equipment
PRODUCT HIGHLIGHTS:
Wire Forms
Metal Stampings
Coil Springs
Torsion Springs
Product Assemblies
Surgical Staples
Hypodermic Needles
Laparoscopic Device Hardware
Drug Delivery System Components
Implantable Titanium Products
Catheter Guide Wires
Electrical Device Contacts
Diagnostic Equipment Components
Hemostatic & Ligating Clips
Surgical Sharps
Medical Grade Tubes
Magazine Springs & Gun Components
Diagnostic Tubular Components (Cannula, Tubes, Various Needle Geometries)