Electrical Nickel Grades 200, 201, 205, 233 & 270
Product Announcement from Ed Fagan, Inc.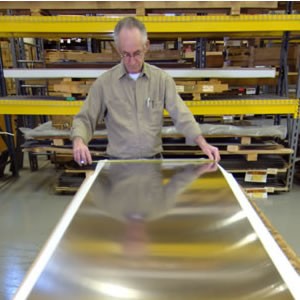 ****** Live CHAT designed for GlobalSpec Customers ******
Electrical Electronic Nickel grades 200, 201, 205, 233 and 270 are commercially pure, un-alloyed Nickel with only traces of minor elements. Pure nickel has good mechanical properties and excellent resistance to many corrosive environments. Other features include high thermal and electrical conductivities which is often desirable in electronic applications. This material is often used in electrical and electronics parts.
Typical applications include: components for electronics packaging such as, leads, terminals, getter tabs, and lids. It used as anodes, cathodes, and shields in special purpose electron tubes, hydrogen thyratron components, passive cathodes, cathode shanks, plater bars, and transistor enclosures. It is also needed in fuel cells and Ni-Cd batteries as well as applications where corrosion resistance is a necessity.
Ed Fagan Inc. stocks Electrical Electronic Nickel grades 200, 201, 205, and 233 in Rod, Sheet, Coil & Strip, and Electrical Electronic Nickel grade 270 for immediate shipment. Nickel is available in a variety of thicknesses and diameters; and we can cut, slit, shear, or center less grind Nickel to your exact specifications. We also have tremendous versatility when it comes to custom sizes, packages, and unusual materials.
About Ed Fagan Inc.
ED FAGAN INC. supplies the highest quality special purpose metals and alloys for Aerospace/Aviation, Defense, Electronics, Magnetic, Medical, Lighting, Optical, Telecommunications, Ceramics, Heat Treating, and other high-technology industries.
We have an extensive inventory of Controlled Expansion Alloys, Electrical/Electronic Nickel, Soft Magnetic Alloys, and Refractory Metals and Alloys. We stock these materials in a wide variety of forms including Sheet, Plate, Coil/Strip, Rod, Bar, Wire and Foil; and in many thicknesses, diameters, widths/lengths and tempers for immediate delivery.
---